Lumi Pro Rechargeable LED / Glow Staff
SKU:8787
Regular price
Sale price
$48.00 USD
Unit price
per
Sale
Sold out
Happiness Guarantee

We are here to create more happiness in the world. So if your shopping experience or the products ordered are not doing it for you, please get in touch or check out our returns policy here.
Speedy Delivery

Most orders ship the same day if ordered on a business day before 1pm (AEST). Check Australia post delivery times via the link below. Select Express Post on checkout for fastest delivery.
New Collapsible Design!
LUMI Light Staff by Threeworlds. Designed locally here in Burleigh Heads Australia, with colour modes inspired by nature and our gorgeous surroundings. 
Rechargeable
We've levelled up our LUMI staff by making it rechargeable, simply by connecting to a USB port, making them travel friendly.
Super Bright
The Lumi Light Staff is built for night time glow fun. Just spin it to create mesmerising light trails in the dark. Perfect for kids and as an entry-level staff for adults, this glow staff gives hours of entertainment.
Featuring 2 x super bright LED light units with plenty of colour modes that illuminate the full length of the staff; making sure you'll stand out in the night. 
Easy to Use
Simple and easy to operate. There's just one button that controls each light unit.
New Collapsible Design
The Lumi LED / Glow Staff is a collapsible 3-piece staff, making it super portable. Now you can take your Lumi Staff everywhere you go... to the park, beach, on holidays or overseas. 
Ultra Durable
Made of strong Polycarbonate tube (that's the stuff bullbars are made of) making them light-weight yet super robust. Designed with kids and beginners in mind, they can withstand knocks and drops at fast spinning speeds.
The LED Light Unit is protected within the tubing and covered at the button end by silicone end caps for extra insulation and added weight where it's needed.
Silicone
Gripped with Silicone for a non-slip, comfortable feel.
Designed by Threeworlds, they're made to last so they can take hard knocks and drops... and it's inevitable you'll hit yourself too so we've made the poi balls light and soft so they're gentle on impact.
Make Light with Lumi. Spread Joy & Light Wherever You Go! You Are Awesome! You Are Light!
[lumipro.instructions]
Specifications

Small = 900mm
Medium = 1000mm
Large = 1100mm
Charging Cable = 2 Prong USB C to USB A charging cord

R1 Light Unit
Voltage = 3.7 V
Battery Life = 2.5hrs - 10hrs (depending on the mode)
Charging Port = USB-C
Charging Time = 1hr - 2hrs
Battery Life

Battery Life

Once fully charged these light units will last from 2.5-10 hours of lights on play. This time varies depending on the light mode.

Charging Time

Charging time is super quick at 1 hour till full charge.

Charging Regularity

The circuit will self discharge when idle overtime so if you haven't played with your staff for a few weeks it may need a fresh charge. We have made charging time super quick though to account for this.
Includes

1 x Lumi Pro Staff
1 x Charging Cable
Warranty

12 month warranty on the LED light units. If you have any issues let us know and we will repair or send a replacement.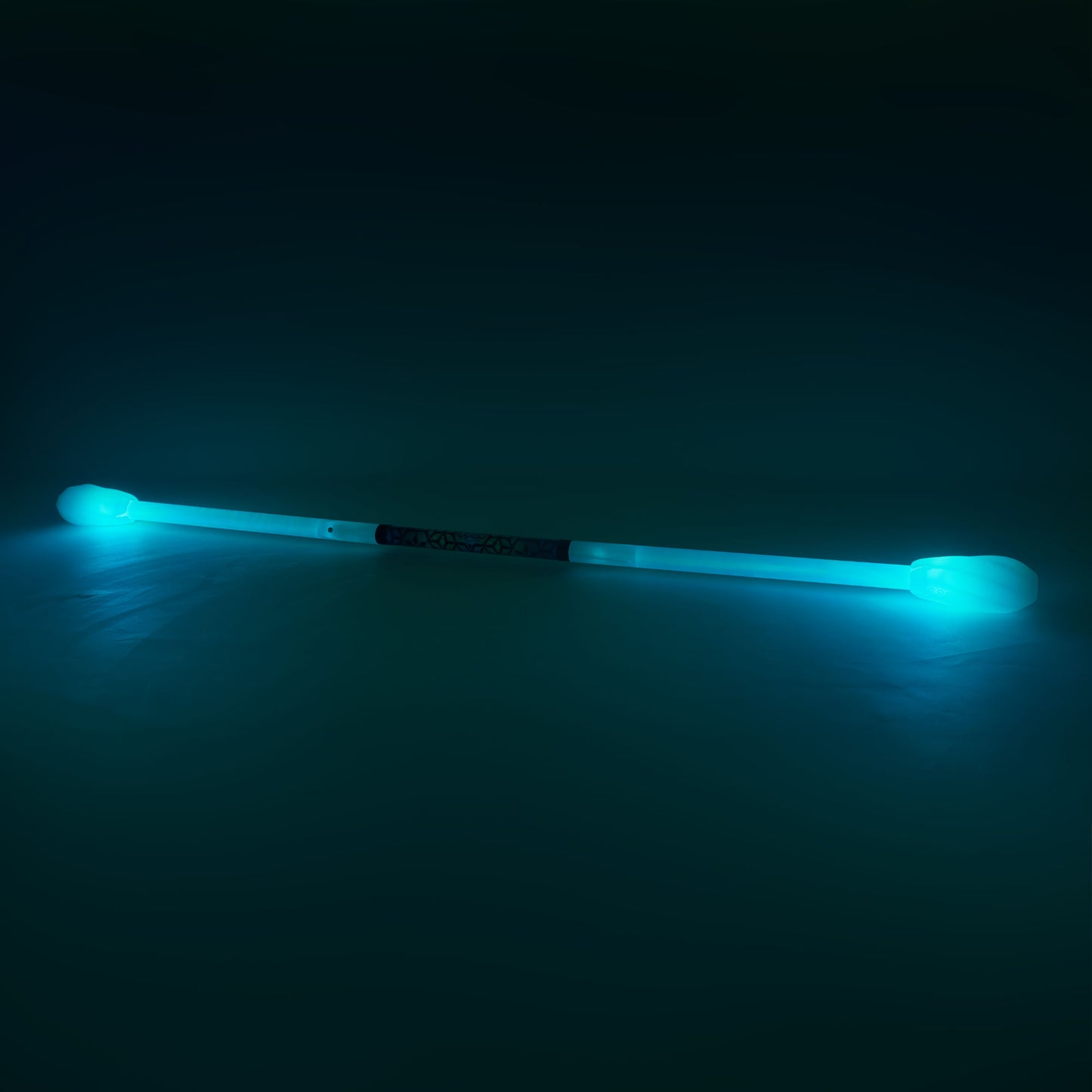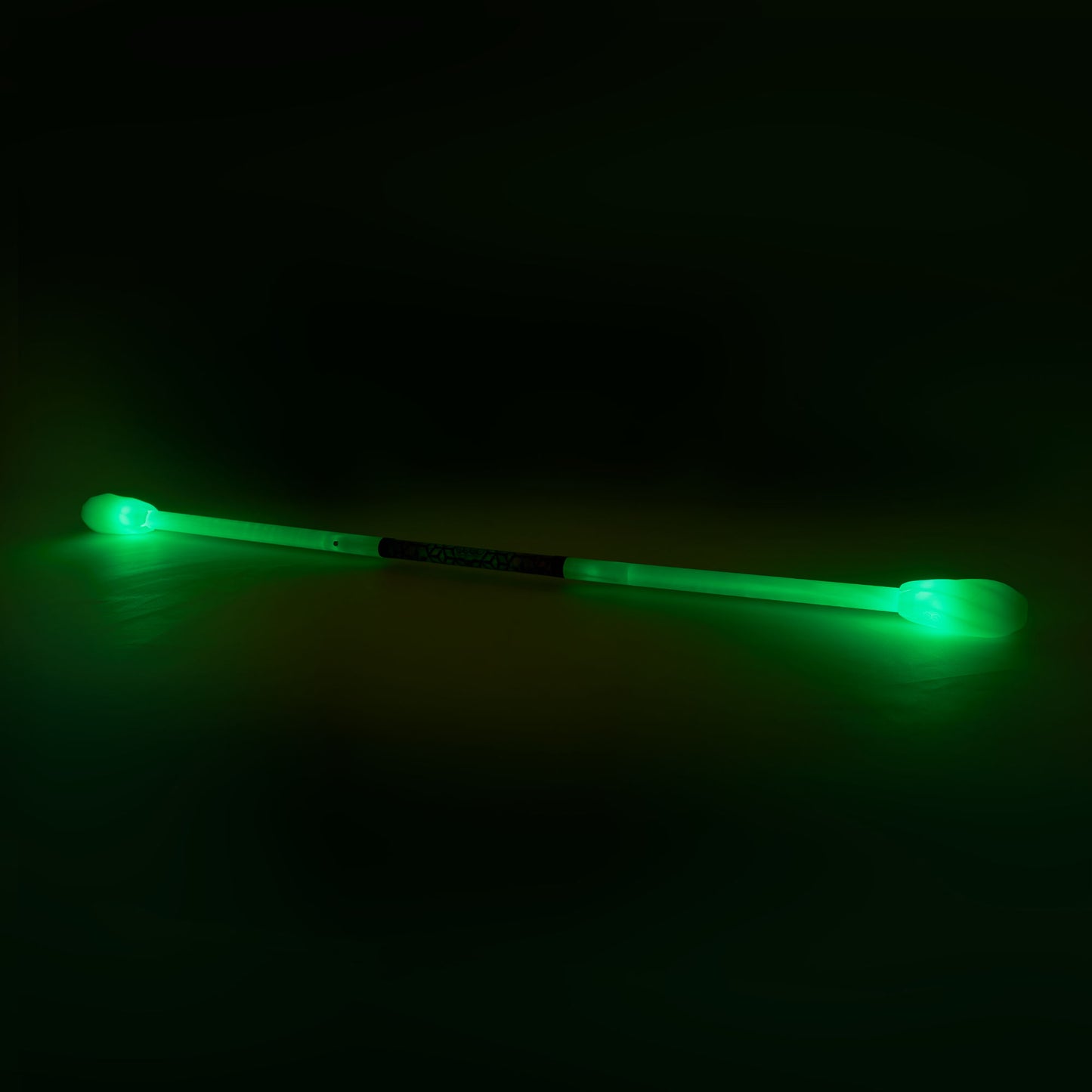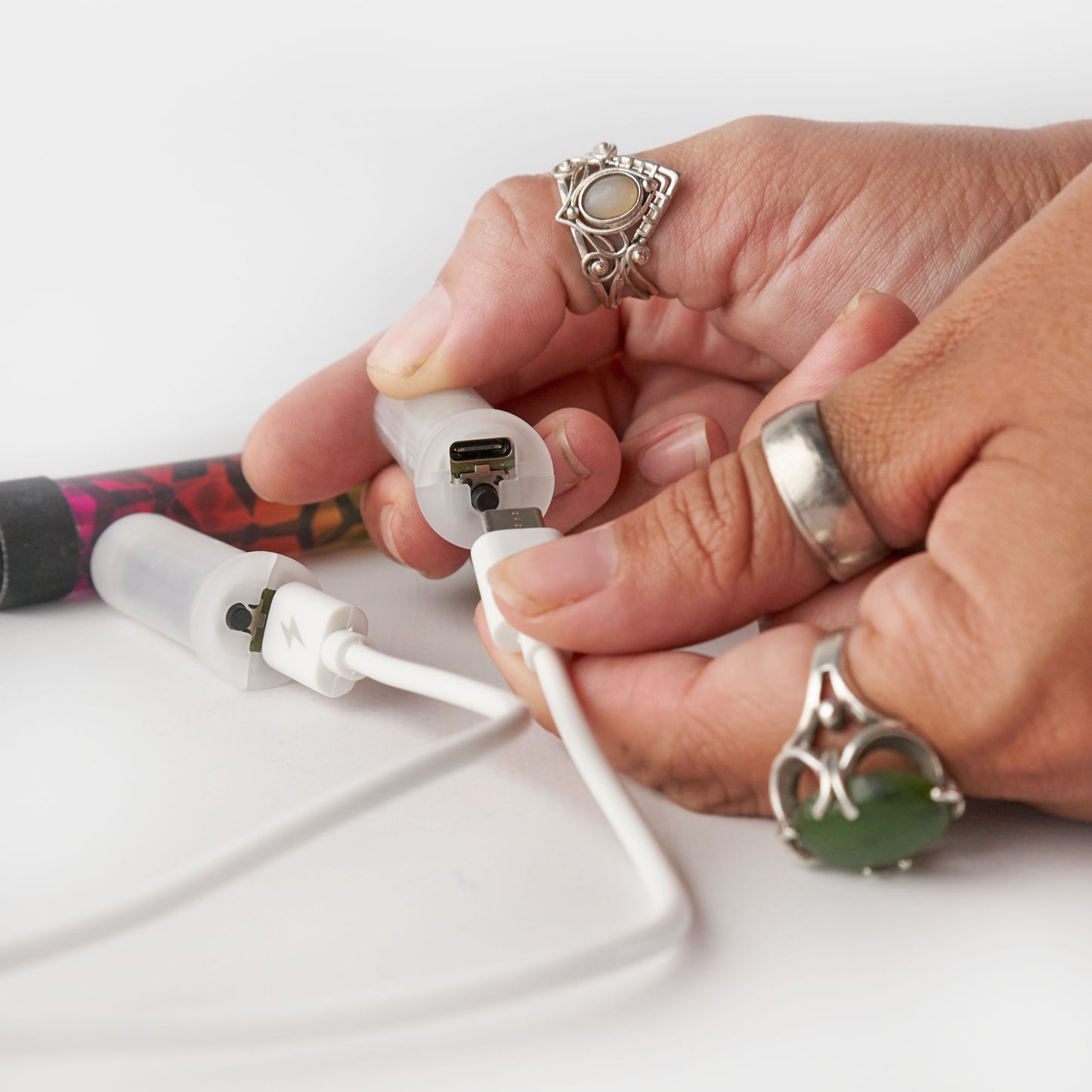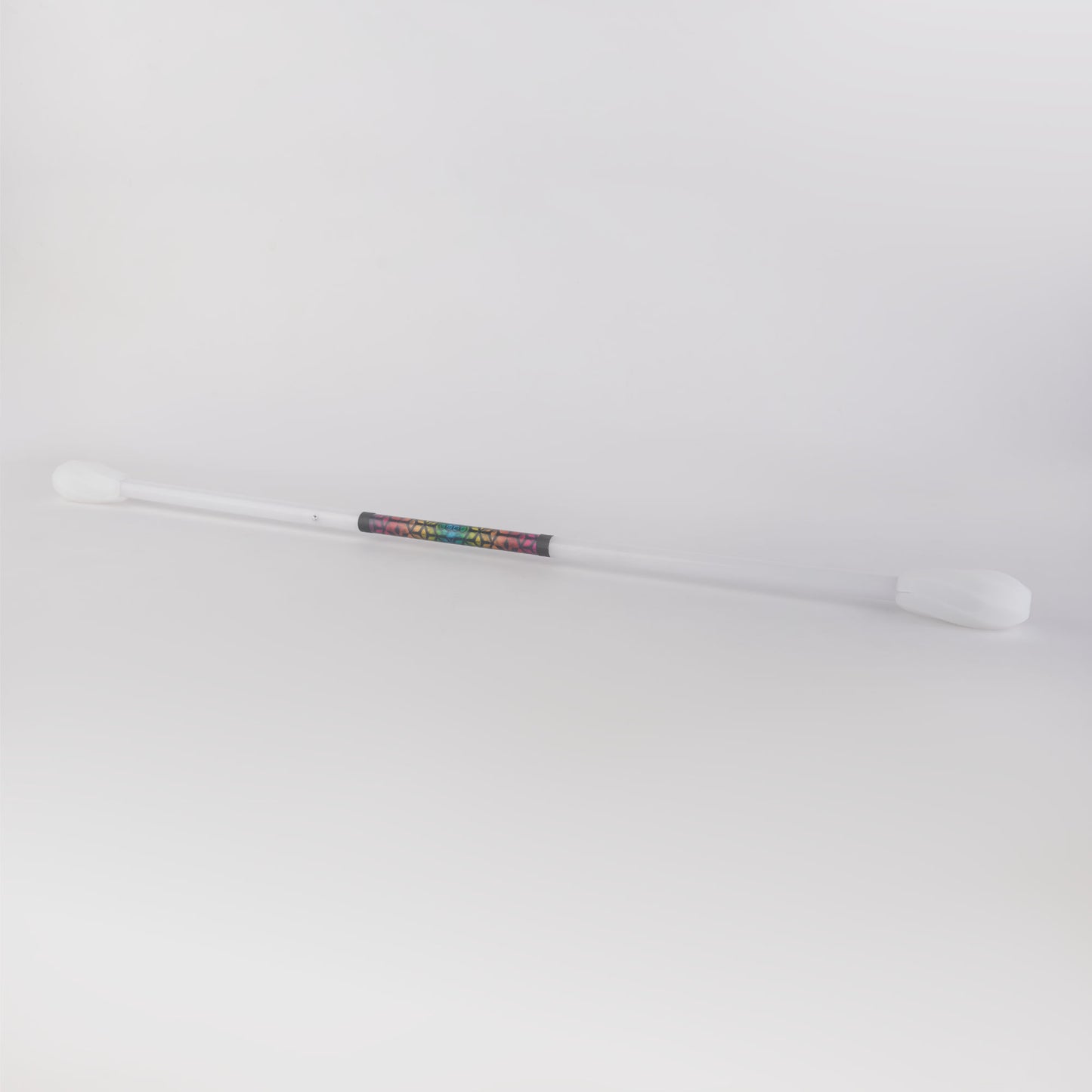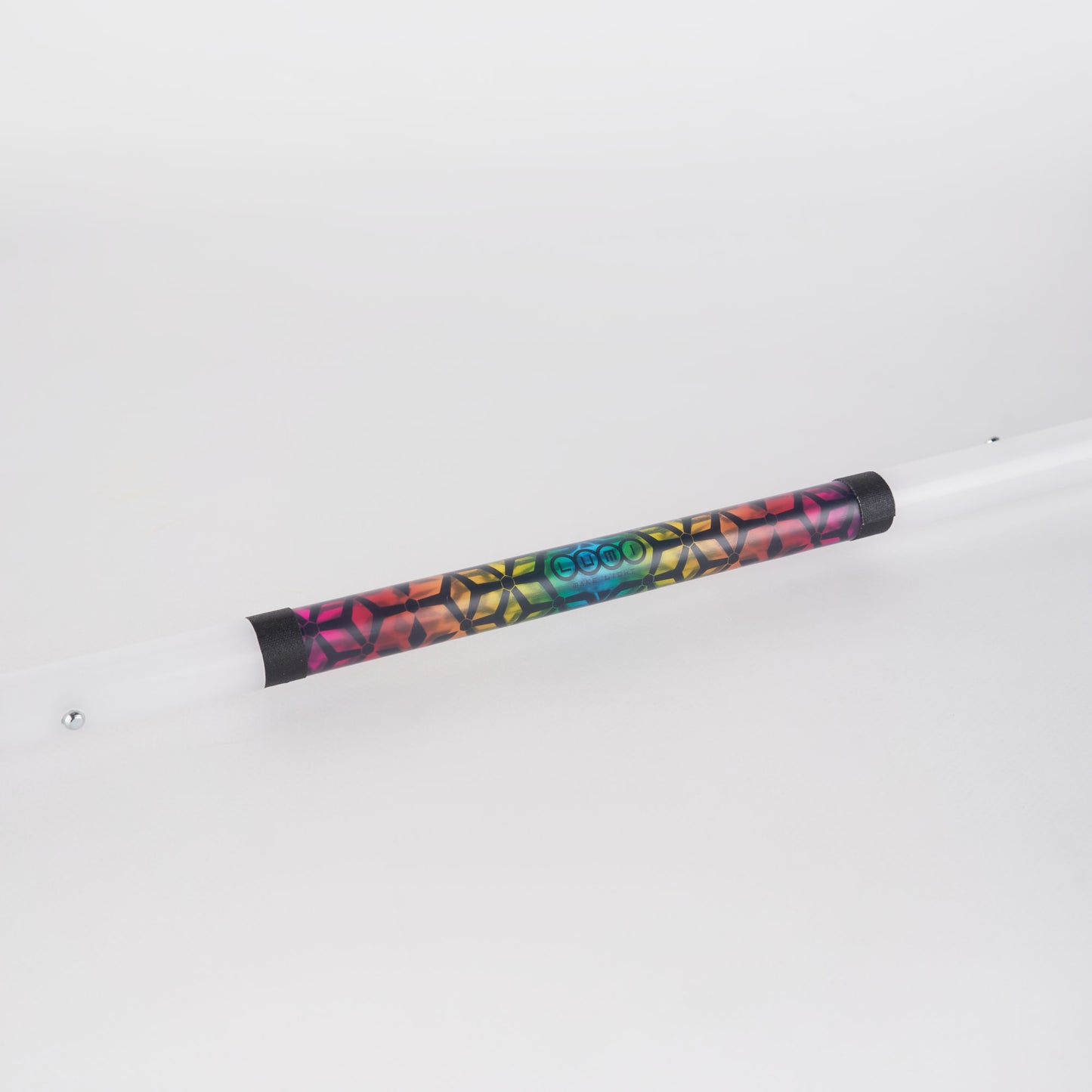 Awesome and fun to bring just about anywhere!
Fantastic light staff for learning
This was the staff I bought to first delve into the hobby of staff spinning. It's nice and light, the balance is great, it's flexible and strong and the rubberized ends make it a mostly painless experience when you inevitably hit yourself in the face.
Thanks for reviewing Aidan and glad to hear the staff was a good match for you :)
well designed and joyous to use
A great product, sweet design, light, portable, perfect for travelling and excellent customer serice and delivery from Threeworlds. Definitely recommend and would buy again.
Glad you like the design and are having fun with it!
Thanks so much for reviewing :)
Lumi Pro
Fantastic product, I ordered a second one a few months later so my son and I could both enjoy the fun together. Customer service was also awesome. Originally I ordered a fire stick, my son changed his mind before the product arrived, no problems with a refund and I simply sent it back unopened. Thanks Three Worlds!!!
Glow staffs all round! Happy we could make the whole process easy for you :)
Hope you two are loving the staffs!
Threeworlds props are solid
I've been using threeworlds Staffs for about 4 years. They have been absolutely amazing. I bought these led staffs for my nieces. I was impressed by the quality for such an affordable prop. Very durable and alot of fun.