Flowtoys Pod Poi V2
SKU:2036
Regular price
$181.00 USD
Regular price
Sale price
$181.00 USD
Unit price
per
Sale
Sold out
Happiness Guarantee

We are here to create more happiness in the world. So if your shopping experience or the products ordered are not doing it for you, please get in touch or check out our returns policy here.
Speedy Delivery

Most orders ship the same day if ordered on a business day before 1pm (AEST). Check Australia post delivery times via the link below. Select Express Post on checkout for fastest delivery.


These PodPoi are arguably the best glow poi ever made. They have every aspect of a "great poi" nailed. Featuring their 2.0 capsule light, these feel incredible to spin and captivating to watch.

CAPSULE 2.0 FEATURES
64 customisable modes
Full colour spectrum with over 60 billion colours
Super bright, custom high-temp LEDs, and global brightness control
Accelerometer response
Wireless control, syncing and connectivity
USB rechargeable and update-able
Super durable & lifetime warranty
COLOUR MODES
There are 10 adjustable modes and 3 modes with preset patterns. The 10 basic modes are adjustable and allow you to create an infinite number of unique patterns and colour combinations. Depending on the mode, the colour palette OR the speed OR the brightness can be adjusted. There is also a presets mode where you can select from 10 preset patterns; a nocturnal mode where you can access all the base patterns, all set to run for over 15 hours; and a favourites mode where you can find your 10 most recently saved modes/adjustment.
RECHARGEABLE

These light units allow 6 hours+ lights-on time, depending on the mode. Nocturnal mode has all the main modes set to run for a minimum of 15 hours. In our tests, some modes lasted well over 24 hours. And they appeared plenty bright.
To find out how much charge your poi have, press and hold the button from off and a coloured light will blink to indicate your charge level.
Green = 90% or more
Yellow = 50-90%
Orange = 50% left
Red = Less than 10% left
BATTERY LIFE
Podpoi are micro-USB rechargeable. You can plug them into any USB power source with a micro-USB cable. We provide cables, but you also use any standard micro-USB cable. It takes about 2-3 hours to fully charge, though the batteries are 90% charged within the first hour.
SILICONE SHELL
These poi heads are constructed from a silicone shell which is both non-toxic and environmentally friendly as well as soft to touch and super durable. The silicone shell gives these poi a cushy feel on impact which you'll appreciate during practising.
The silicone is also totally washable, simply remove the light unit and wash the silicone shell with warm soapy water to keep your poi looking and feeling new.
ADJUSTABLE LEASH
PodPoi feature adjustable leashes to offer a customisable experience depending on your preferences. Simply pull the leash from the knob handles and tie an overhand knot at your desired length. Pull the knobs back over the knot and you're good to go.
SPECS
Poi Head Weight: 130g (weight is distributed towards the end of the poi head where it counts)
Size: 118mm long and 66mm in diameter (4.6 x 2.6 inches)
Material: Silicone shell and polycarbonate light capsule and silicone knob handles
Battery: 3.5-4.2v, 750mAh rechargeable Li-ion
Micro-USB: Maximum power draw of 500ma
LEDs:  4x super-bright RGB LEDs - a total of 12 LEDs
WARRANTY

Covered by Flowtoys Lifetime Warranty.
If any non-electronic part fail, Flowtoys will replace it for free, you'll just need to pay for postage. If the light capsule is defective/not working and not physically damaged (cracks or split shell or water damage), we will replace it for free including cost of postage. All warranty issues are handled directly by warranty@flowtoys.com
INCLUDES

1 x pair of PodPoi V2 with knob-leashes
1 x 100% cotton podpoi® drawstring bag
1 x pair of micro-USB cables
Many epic moments of flow and fun!
OPTIONAL EXTRA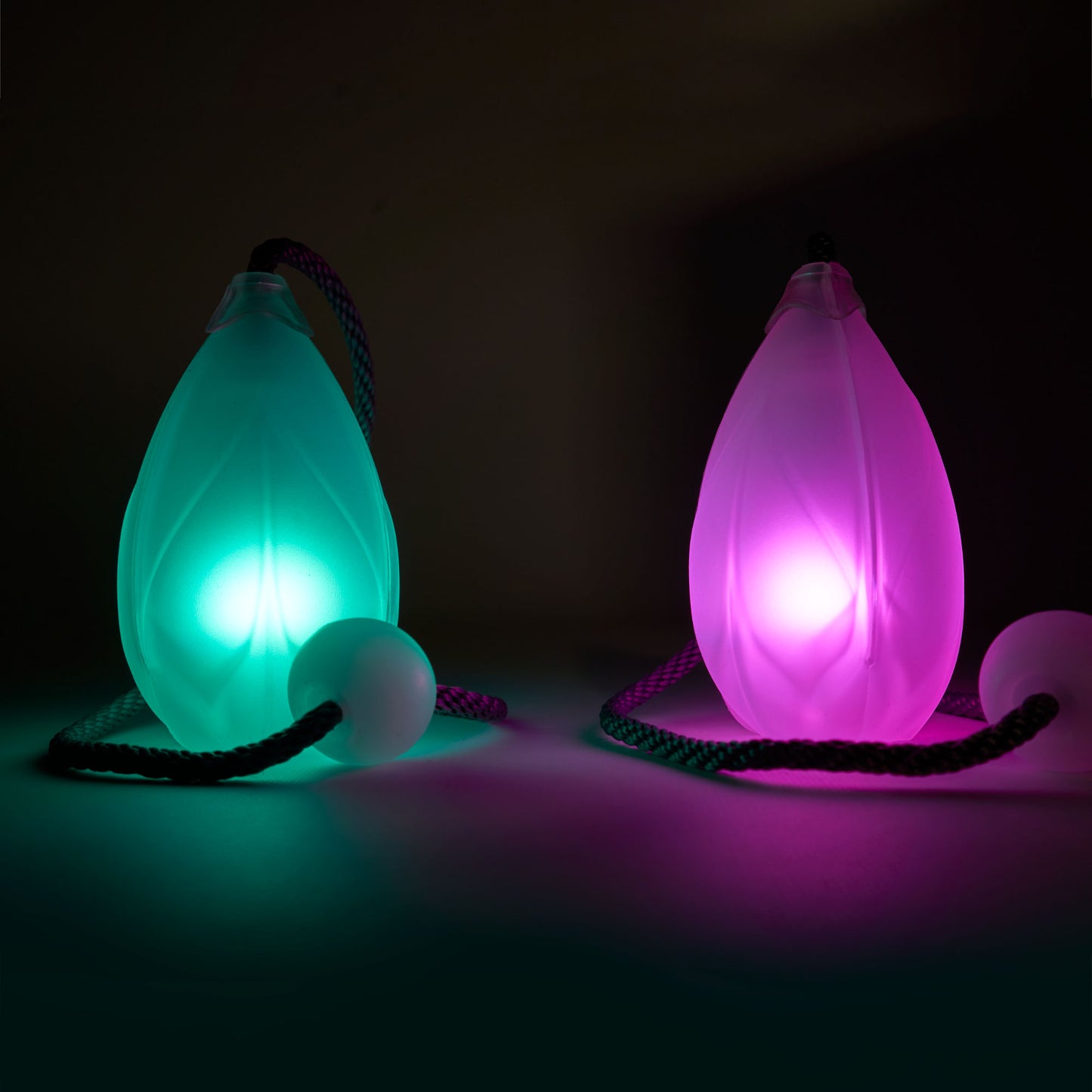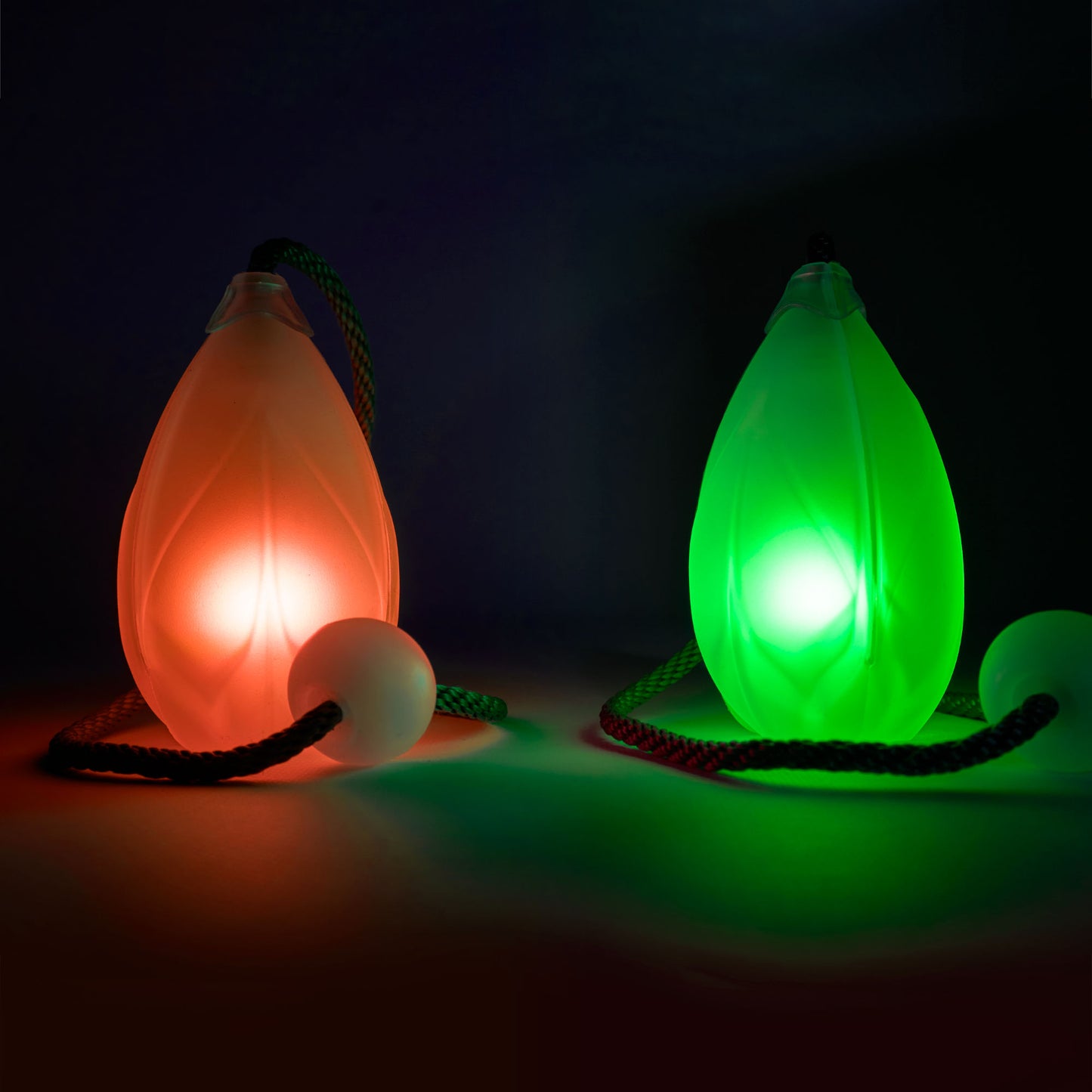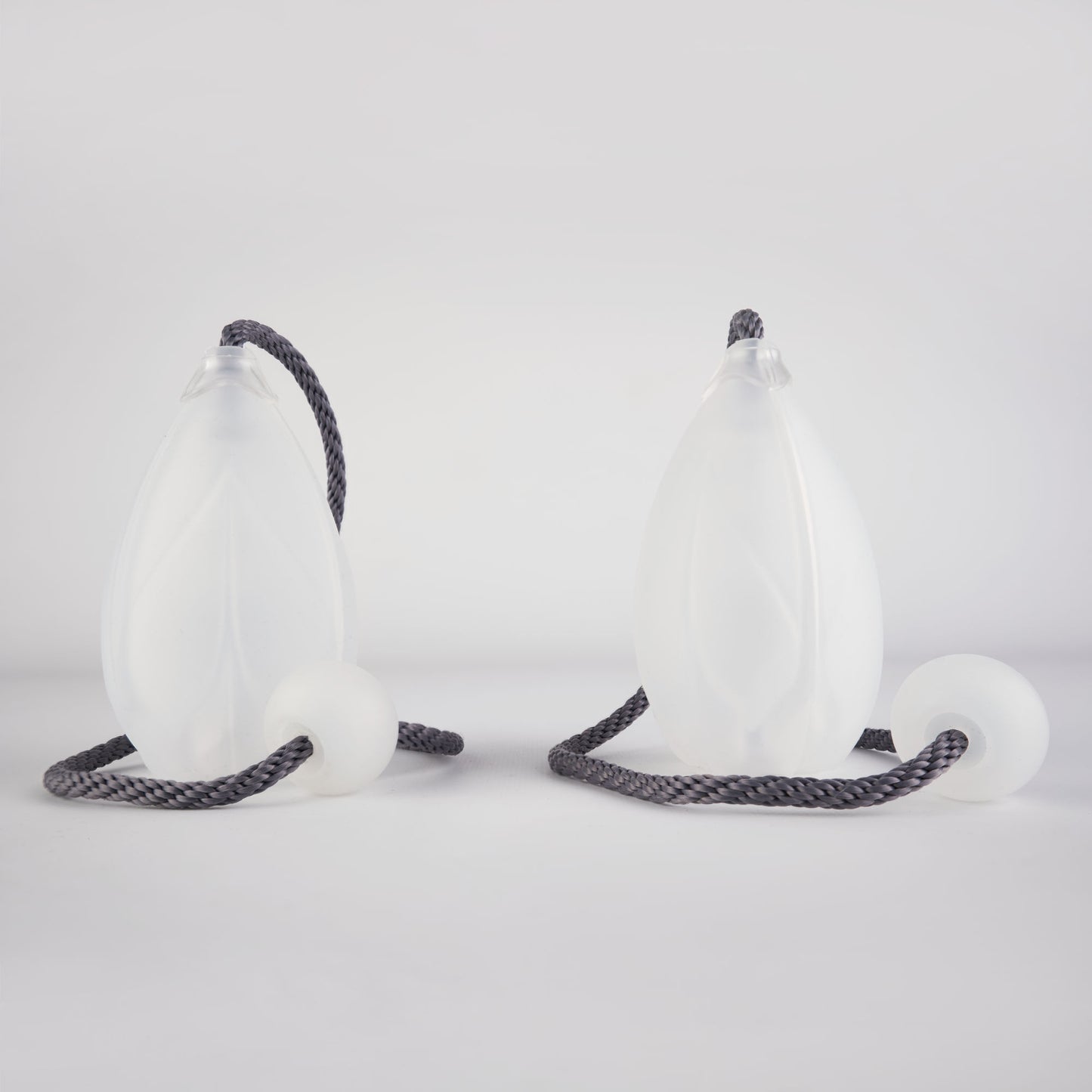 Purchased as a gift for a poi enthusiast. They told me it is perfectly weighted and high quality. Was a favourite next to the DJ decks.
Great to see how far LED poi have come
Solid build, good weight, bright colours. Things have come a long way since my last set over 10 years ago
They just keep getting better! Thanks for reviewing Dane :)
Great product
My daughter absolutely loves her pod poi, they are easy to use and hours of enjoyment. Very prompt service and fast delivery. Overall great product and service.
These poi are amazing, glad your daughter enjoys them too! Thanks for the feedback Nadene :)
Great service and great product!
So excited to receive my new Pod Poi v2. Enjoying exploring the range of programs and settings. Thank you threeworlds.
Thank you for your kind words! We're so happy to hear that you're enjoying your Flowtoys Pod Poi v2.
Happy returning customer
Absolutely in love with these Pod Poi V2 I bought through Threeworlds. Even more than the Pod Poi V1 I bought through Threeworlds many years ago! Flat rate shipping was really fast on this order too!
Yay so glad to hear you're happy with the poi! They just keep getting better hey :)