Lumi LED Dragon + Staff
Regular price
$340.00 USD
Regular price
Sale price
$340.00 USD
Unit price
per
Sale
Sold out
Length Guide

The most common length for a Dragon Staff is anywhere between eye height and chin height. 

Either measure from the ground to your eyes or you can deduct 150mm from your height.

Grip Selection Guide

We offer three types of grip for our spinning and Fusion gear: EPDM, F-Grip and Silicone. Each has their own unique properties; read on to find out which is best suited to you.

Silicone

Silicone is an environmentally sound, clean product. It's washable and very durable. It's the longest lasting grip and provides excellent grip when dry. It does suffer when wet whether that be from humidity or sweat which is it's only real downfall.

+ Extremely long-lasting – you wont have to replace it often
+ Excellent grip in dry conditions
+ Fully washable to keep it looking and feeling new
+ Transparent so you can see markers underneath for more precise spinning


- Doesn't handle wet conditions/sweat well. You may have to wipe it down with a dry cloth occasionally during use. 

 

EPDM

EPDM is simply a black foam strip. The foam is soft, grippy and stays grippy in most situations – even when wet. It does leave some black residue on skin after use as the foam is uncoated to maximise grip and it will need to be replaced after a while once it wears out.

+ Great level of grip
+ Grippy in wet or dry conditions
+ User replaceable at home


- Wears out – you will have to replace this grip after a while
- Leaves black residue on skin


 

F-Grip

F-Grip is our newest grip. The F stands for Fusion as it is our most well-rounded grip yet. It is made of natural rubber which means it stays grippy wet or dry and is durable as well. 

+ Great level of grip
+ Grippy in wet or dry conditions
+ Durable

- Some may find it too grippy and a bit rough on skin



**This grip is not listed as an option for all products. For full staffs, add product 'F-Grip Upgrade' to cart with your staff. For using this grip for any other props and parts please reach out to us to find out more at life@threeworlds.com.au
Staff Comparison Guide

We offer three types of Fusion Staffs for our dragon staffs: Carbon Fibre, Aluminium and the new Hybrid Staff. Each has their own unique properties and purposes; read on to find out which is best suited to you.

Carbon Fibre

Carbon Fibre is super strong and super light which is what makes it such a good material for props like contact staffs where you want all the weight to be at the ends rather than through the body.

+ High tensile strength especially for its weight
+ Lightweight and responsive
+ Can be gripped with any grip
+ Can be used with fire dragon staff attachments


- Can crack from high or forceful drops
- Wick cannot be attached directly to it

 

Aluminium

Our aluminium staffs are constructed from 20mm x 1.6mm extruded 7075 Aluminium tube. It's a great balance between weight and strength and super versatile.

+ Good for those who prefer a heavier weight staff
+ Robust staff for more heavy-handed spinning
+ Can be gripped with any grip
+ Great value for money
+ Fire proof and can be used with any dragon staff attachments


- Can bend from high or forceful drops


 

Hybrid

The Hybrid staff is the newest addition to the family. If combines polycarbonate with aluminium tubing to bring more glow to dragon staffs and more strength to LED contact staffs.

+ Glows down the body of the staff
+ More rigid than traditional LED staffs
+ More colour variations when used with LED dragon attachment 


- Not able to be used with any wick or fire 
- Can only be gripped with silicone grip
Fusion Modular System

Compact for Travel

Like all Fusion Staffs, they setup in seconds by simply twisting the handle. The key to the system is the highly engineered patented locking mechanism that's simple to use and provides superior strength with no wobble or rattle – That's super important for a balanced flow.

The kit is super compact – packing down to about one-third its size when disassembled. With the solidly machined connector, it has no moving parts and collapses down instantly.

Interchangable

The Fusion system is totally modular and has been designed to fit any 22mm tubing, which means you can swap the ends to glow, fire, contact, or dragon ends.
Specs

Carbon Fibre Pure Staff

w/ Silicone Grip
1400mm = 431 grams
1500mm = 453 grams
1600mm = 480 grams
1700mm = 503 grams

w/ EPDM Grip
1400mm = 405 grams
1500mm = 436 grams
1600mm = 459 grams
1700mm = 480 grams

Aluminium Pure Staff

w/ Silicone Grip
1400mm = 614 grams
1500mm = 648 grams
1600mm = 687 grams
1700mm = 724 grams

w/ EPDM Grip
1400mm = 585 grams
1500mm = 619 grams
1600mm = 652 grams
1700mm = 685 grams

Hybrid LED Staff

w/ Silicone Grip
1400mm = 436 grams
1500mm = 454 grams
1600mm = 480 grams
1700mm = 550 grams

w/ EPDM Grip

1400mm = 378 grams
1500mm = 402 grams
1600mm = 424 grams
1700mm = 450 grams

Lumi Dragon Heads

320grams per head

The all-new Lumi Dragon is a radical departure from LED Dragons of the past. From its very inception, we wanted to balance both features and affordability into one package. This brilliantly bright and feature-heavy LED Dragon brings that exceptional value, marking a new level of accessibility not seen until now.

These heads can be used on any Fusion Dragon Staff; Pick between Carbon Fibre, Aluminium or our new Hybrid LED Staff to suit your preferences. 
This includes a collapsible staff of your choice and detachable Lumi LED Dragon Heads.
With a fully backed, shipping-cost-free warranty, you can order with confidence from a company that has been serving up quality props for over 20 years. ❤️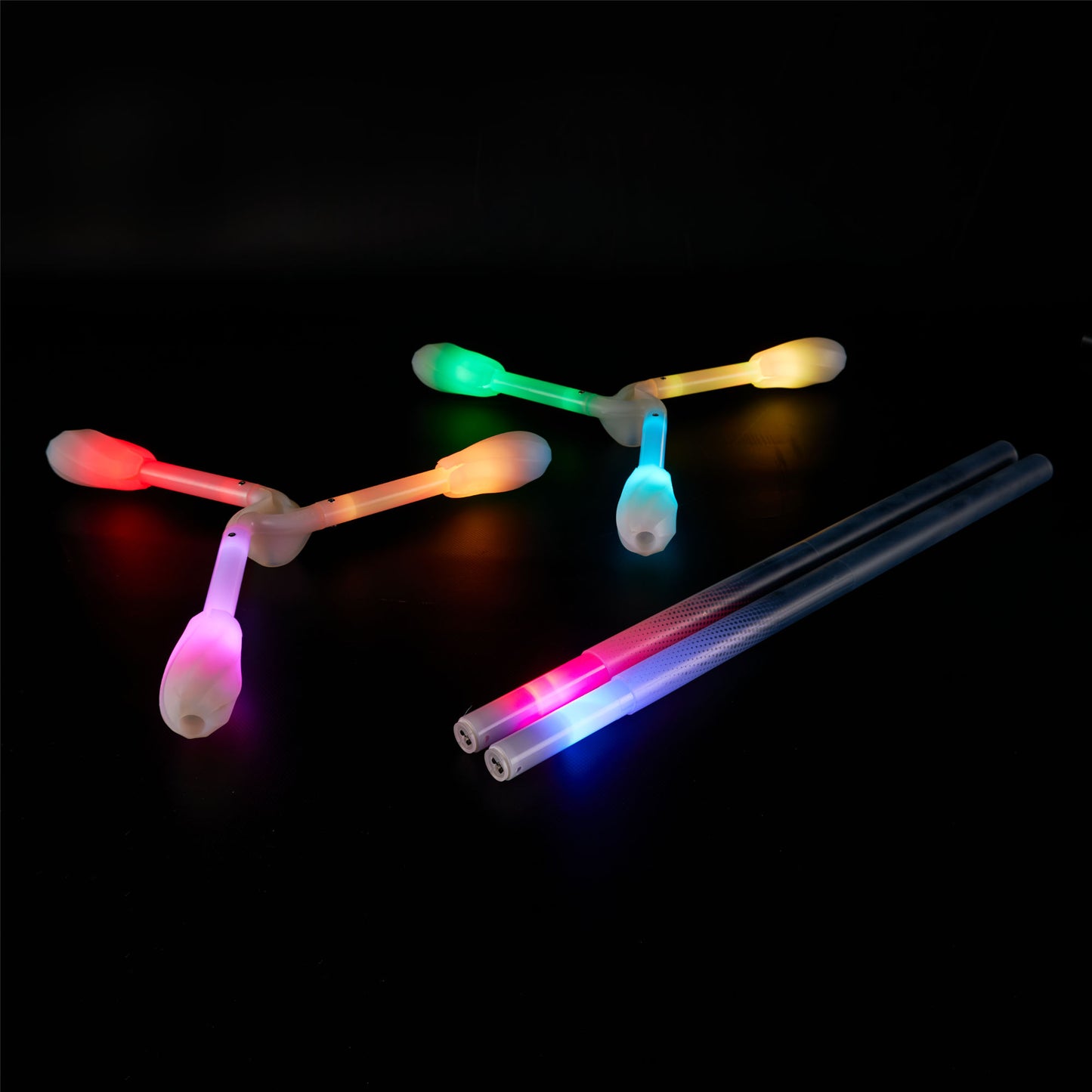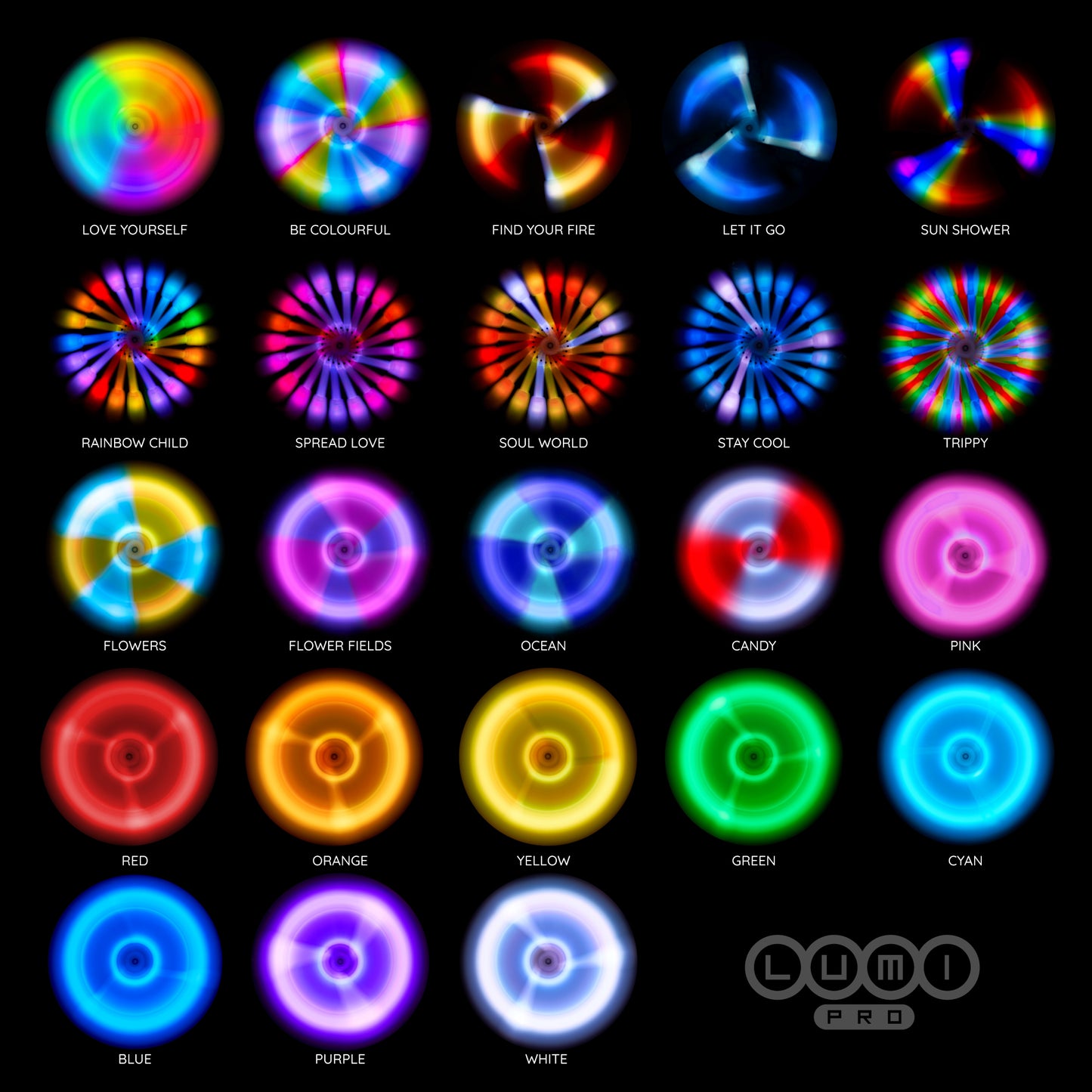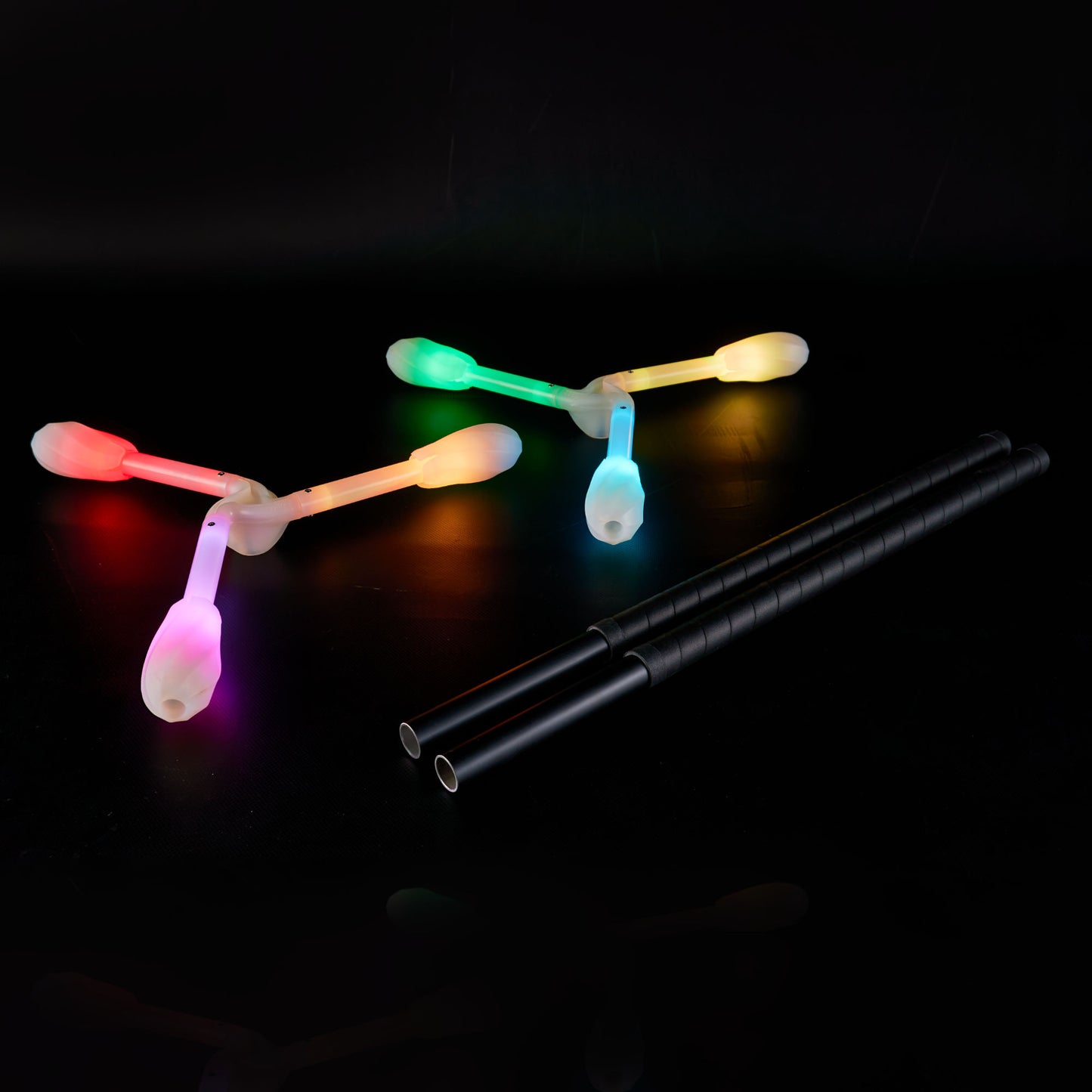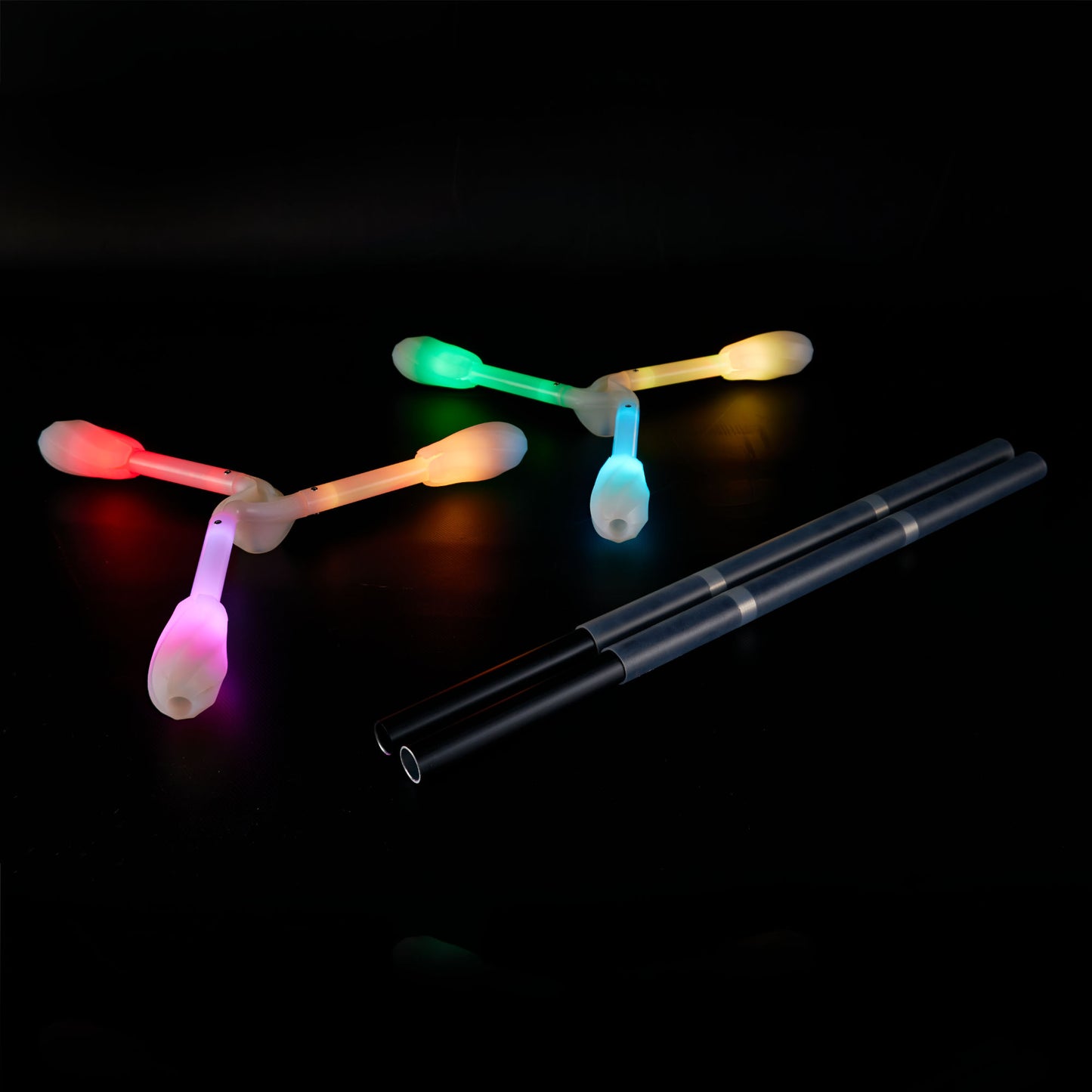 Fusion LED Hybrid Staff (Option)
Bring on the Night
With 24 brilliant colour modes, 6 speed settings per mode and the option to select a different mode for each spoke gives an almost unlimited number of combinations to help you find the style and vibe that lights you up!
Note: Real photos of spinning dragon head below. We used an 18v drill to spin slowly and evenly. 😍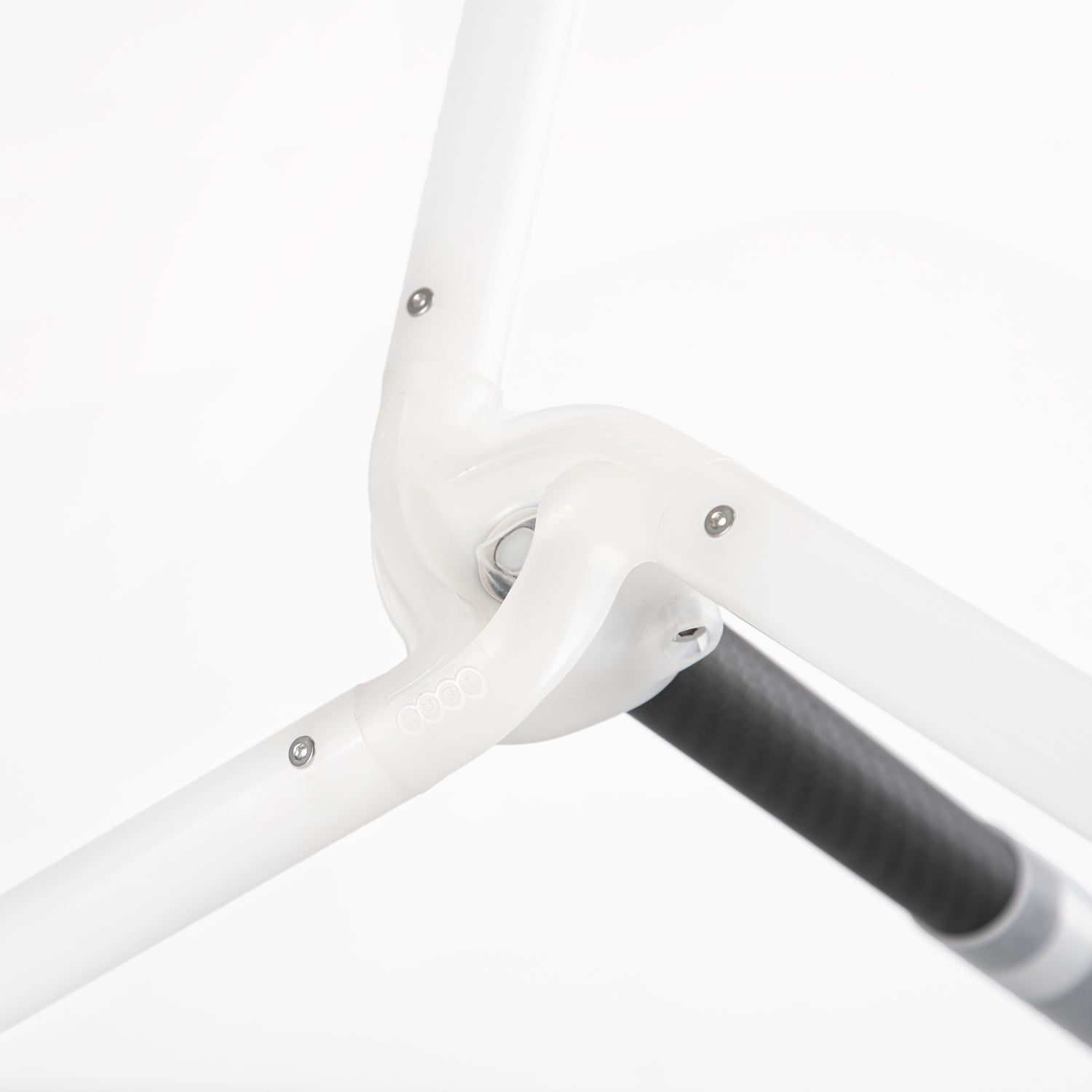 Dragon Hubs
Custom moulded frosted polyurethane central hub offers the maximum durability and light dispersion, all the way to it's centre. Fit and remove with a single allen key or add the optional Fusion Quick Release End Cap for tool-free, extra fast removal.
Lumi Pro Light Units
Built on the Lumi Pro LED Light Engine and featuring future-proof USB-C charging, you get brilliant colours for hours on end and some truly impressive modes to light up the night. From 2.5hrs - 10.5hrs of play. (depending on the mode).
Lumi Light Instructions
Lumi Pro Silicone Orbs
Protecting the light units, these all silicone caps also spread the light to the spoke ends and add perfect weight where it's needed.
Fusion Collapsible Staff
Optionally, couple your LED heads with the Fusion Collapsible Staff for maximum portability. The Fusion system is world renowned for it's robust locking mechanism that feels like a solid single-piece staff.
In the Box
2 x LED Dragon Heads
6 x Lumi Pro LED Light Units
2 x 3 Prong USB-C Cables
1 x Allen Key
1 x Fusion Contact Handle
2 x Fusion Ends (optional Hybrid (Includes extra 2 x Light Units), CF or Aly)
Amazing! 10/10 Would recommend! Feels so good to spin with the weight and feel. Fits into a backbag! Definitely check out their cute bag too
Great staff!
Really great product. I bought a normal dragon staff from Threeworlds which I also love, but I wanted one that would be visable during the night without the need to light it on fire, this was the perfect solution.
The sillicone grip is well made and it works well without any tear (unlike the EPDM). The LEDs give a very nice glow too, combined with the ones the illuminate the staff itself. There are plenty of modes to chose from too.
I would highly recommend this staff.
Quality and care
Thank you sosososo much Threeworlds! I am a budding fire twirler who learnt my skills through a school tradition. They consistently order equipment through you guys so I knew how much I could trust you when it came to deciding to order my own equipment. Your website is very helpful and easy to use and it really seems like this is a company who puts total care into their products. Although there was a delay in delivery, you were so engaged with the process and responsive. When I received the dragon staff and poi, everything was there and of course in good, quality condition. Love you guys so much ❤️❤️