Fusion Carbon Fibre Contact Staff w/ Flowtoys LED Glow Ends
SKU:0024
Regular price
$302.00 USD
Regular price
Sale price
$302.00 USD
Unit price
per
Sale
Sold out
Happiness Guarantee

We are here to create more happiness in the world. So if your shopping experience or the products ordered are not doing it for you, please get in touch or check out our returns policy here.
Speedy Delivery

Most orders ship the same day if ordered on a business day before 1pm (AEST). Check Australia post delivery times via the link below. Select Express Post on checkout for fastest delivery.
We have combined our popular Fusion collapsible staff system and modified it to use Flowtoys Capsule Light to make a three piece, travel LED Staff.
22mm Fusion Carbon Fibre Staff with fixed Polycarbonate Ends.
Fitted with Flowtoys Capsule 2.0 Light Units

Flowtoys Flow Caps.

EPDM or Silicone grip available.
[fusion.troubleshooting]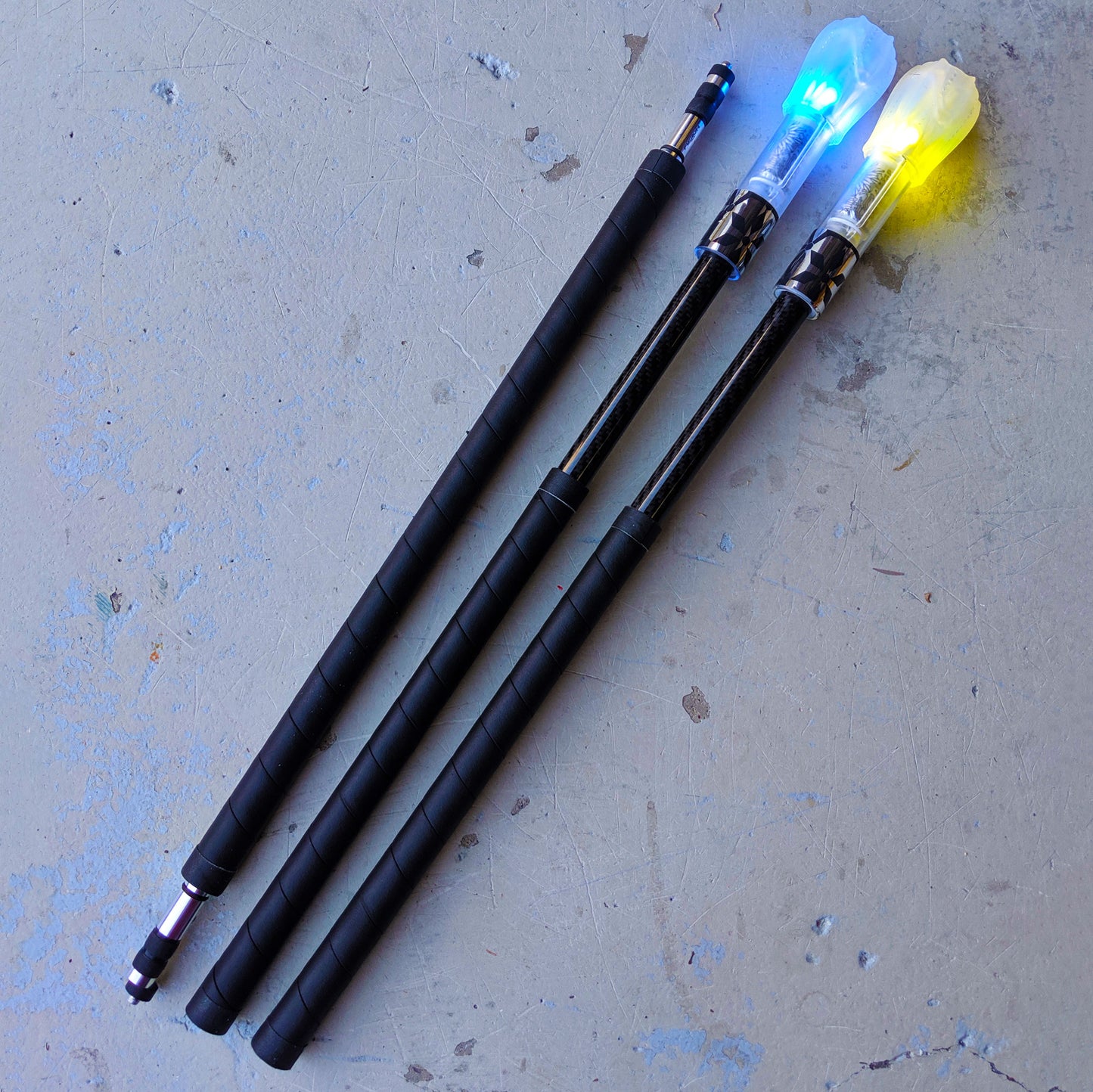 Excellent staff, almost 100% perfect
I agree with one o the other reviews - this staff is absolutely fantastic, but is definitely improved by adding a pair of flow toys flow mass to each side (2 pairs total) - this turns a good staff into a phenomenal one, the slight (but noticeable) added weight on each side gives it much better momentum and improves your flow. It is well balanced, comfortable to spin, and the capsule lights are awesome. This is now my favourite staff (I have many) because of ease of use, durability (happy for literally anybody to have a go), and functionality (packs down to thirds, capsules look amazing AND last all night). Also, Threeworlds have quick shipping and are always easy / nice to deal with - highly recommend.
Thanks heaps for the review and the feedback. Adding flowers might be something you'd like as they weigh 50grams each, just a little more than what you've added with the flow mass. Glad to hear the flow mass also work with this staff though!
Thanks heaps and have fun
Sick one!
This thing is awesome! I've used the Flow toy pois and they are great but the staff although costly is easily just as much fun.
Very Good, but..
The prop is very good, but it need's few upgrades upon receiving. I recommend to buy one or two pairs of flowmass if your aim is contact. For me best works about 1,5 of flowmass at the end (for my personal pref. I add 50g per end) - also it makes the LED light spread a little more as in the "received" state the amount of light was disapointing - it's not as bright as podpois due to no shell only the Flowends are glowing mostly- flowmass partially fixes it.
Also would be good if the flowmass could be an option to choose in the shop as an add-in.
It's probably the best one Flowlight ended staff at the market - there should be version with the space for two caps at one end for more weight and light, that would make an ultimate led staff, but anyway it's amazing prop, well made.
EDPM grip is best grip I've ever seen!
Excellent company
I recently ordered the contact staff with flowtoys and some pure ends and fire ends. After ordering I realized that the flowtays staff and handle are 17mm and the ends I got were 22 mm so they would not be compatible with the modular ends I purchased. I contacted Threeworlds and they promptly responded with solutions and we were able to get me a staff that works for everything I ordered. This was a huge relief as I was already dropping a good deal of money on my order and living in the U.S. I was having to pay about $50 for shipping so it was awesome to get that handled and only have to pay that shipping once. The staff is amazing too and everything I could have hoped for. 10/10 recommend for anyone
Professional review. Balance and break test.
Professional review. 3 months post purchase.
I'm a Fitter and machinist by trade. My career for the last 14 years has been to determine accuracy of mechanical components to 0.01mm.
Upon receiving my my first order, primarily a fusion dragon staff with V3 hubs I immediately knew what I was dealing with.
Neither the staff or hubs are cast. They are machined, to an accuracy my tools cannot even detect (that means that they are more accurate than 0.01mm which is half the with of a human hair).
This translates to PERFECT balance and involves CNC machining which is a computer machining process. You simply cannot replicate it without sophisticated equipment.
The staff has been drop tested consistently from all angles with hubs attached and has proved indestructible under it's intended use with quite some vigorous use.
The V3 hub is an ingenious design. It has no hinge yet locks securely together with a sing cap head bold. This means quick yet reliable change outs.
I immediately purchased all varieties of dragon staff in both carbon fibre and aluminium, with the flowtoys LED and claws and F3 hubs. The quality remains perfect and infallible.
Another not on design is the quick connect on the break down models. When the staff is rotated to lock together it compresses soft washers that expand within the tube and lock against the walls. It leaves seamless joins, quick set up and pack down and maintains the balance.
The light unit in th flowtoys/fusion dragon staff is the same flowtoys v.2 in the poi. They can be connected and this has proved brilliant as a set of poi on a waist band allow quick, one handed changes to the light settings while doing one armed tricks with the dragon staff.
I've found all products to the very best quality
I'd like to write a review of your review! This is the most detailed and educated review yet!!! Most people don't understand what goes into making our products, but you've expressed the knowledge very well. Much appreciated and hope you get many years of enjoyment from the props! Cheers