12" Ghana Djembe Drum
SKU:1062
Regular price
$215.00 USD
Regular price
Sale price
$215.00 USD
Unit price
per
Sale
Sold out
Happiness Guarantee

We are here to create more happiness in the world. So if your shopping experience or the products ordered are not doing it for you, please get in touch or check out our returns policy here.
Speedy Delivery

Most orders ship the same day if ordered on a business day before 1pm (AEST). Check Australia post delivery times via the link below. Select Express Post on checkout for fastest delivery.
Our 12" Ghana Djembe is hand carved in Ghana, West Africa... The motherland of drumming. Ghana djembes are renowned for their lightweight body, versatility and all round sound. We've fitted and finished it with an EvoSkin head here in Burleigh Heads, Australia. You'll love the sound of this extremely versatile drum with big bass, warm tones and high slaps. The Ghana range of drums are all hand carved, each uniquely designed with different carvings and varying shades of timber. If you're searching for an authentic, full size African drum with minimal weight then look no further than a Ghana Djembe.
Specifications
Origin: Ghana, Africa
Rope: 5mm Polycord plaited inner core
Shell: Twenboah
Head Size: 12"
Skin: EvoSkin all-weather Mylar® film
Weight: Varies due to unique timber shell
**Drum Shell designs vary depending on availability

Our Ghana Djembe Drum Shells have all been hand carved and hand finished with shea butter to prevent cracking. These shells can be used to create your own djembe drum for a truly customised experience.
All Ghana shells include bottom ring.
Please note as all these drums are hand carved, no two shells or designs are the same. Every drum is unique and one of a kind :)
Find your rhythm!
Threeworlds drums are made to be played! They are fully tuneable, have an extremely tough skin, and well shaped body to provide sounds that sing! We play drums so we know what is good and what isn't. We stand behind every drum we sell.
The skins we use are unique to Threeworlds' djembes. Named EvoSkin heads, they are a synthetic (and vegan) alternative to animal hides. For everyday use, we think they're much better suited to the majority as they are incredibly low maintenance; They rarely need tuning, they are weather proof – meaning they don't lose tension or crack with humidity or dry weather spells, and they can even be played in the rain no problem! They are also easy to travel with in regards to customs and flying with your drum; You can take it absolutely anywhere you go. They also have a consistently clear tonality with warm basses and bright tones. Slaps will cut through with their lively overtones. Overall, we believe our EvoSkin heads will meet all your needs for a practical and flavourful djembe drum.
EvoSkin, by Threeworlds

Water proof
Unaffected by temperature
Super long life
Easy to tune and maintain!
And sound totally awesome!
Please note as all these drums are hand carved, no two shells or designs are the same. Every drum is unique and one of a kind :)
If you have colour preferences for rings or rope, add a note to your order in your Shopping Cart.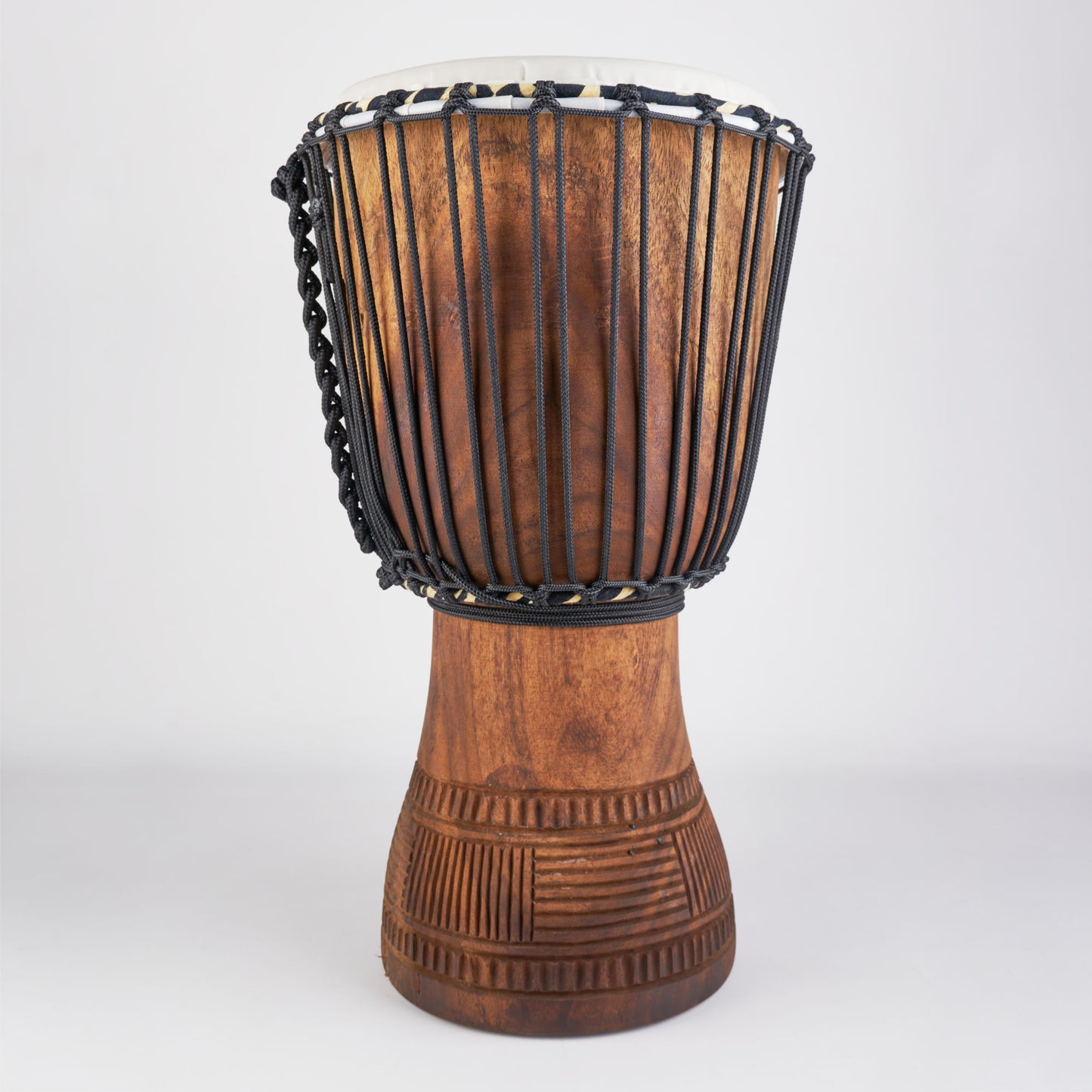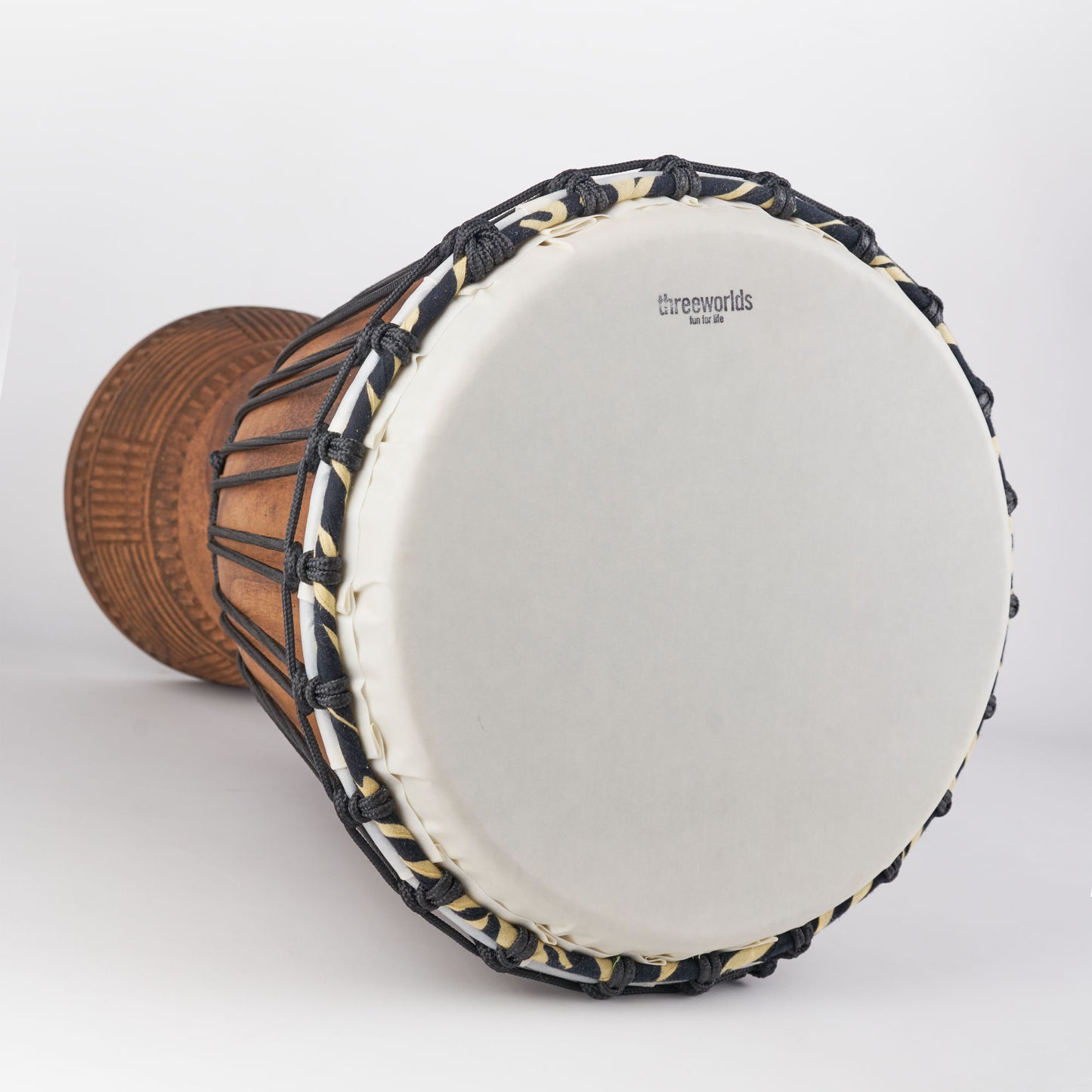 Very happy with the Djembe
This Djembe from three worlds is a quality product, looks beautiful and sounds great. Was packed well and arrived quickly. Thanks three worlds.
Hey Melano, thanks so much for reviewing. Very happy to hear your happy with the quality and service. Happy playing!
Dream Drum
I just purchase 6 x 12" Ghana djembes and I'm so stoked with the finished products I got. All well crafted shells, great colour selection of ropes and the synthetic skins are amazing sounding but also are ideal in the humidity. I don't need to tune them all the time as they keep their tightness. So pumped!!!!
Awsome sounding African Djembe
The latest range of 12'' Ghana Djembes are out of this world! Threeworlds have raised the bar with their latest NU SKIN that they are using with these drums. I have used Threeworlds drums for many years now and I am so happy with the build quality and sound these 12'' and 13'' drums produce. Highly recommend the Ghana range of Djembes to anyone considering buying a African Djembe Drum.
12" Ghana Djembe
Love my Djembe, love the brilliant vibrant tones,
Highly recommend it