Zaphir Wind Chime
SKU:A150
Regular price
Sale price
$48.00 USD
Unit price
per
Sale
Sold out
Happiness Guarantee

We are here to create more happiness in the world. So if your shopping experience or the products ordered are not doing it for you, please get in touch or check out our returns policy here.
Speedy Delivery

Most orders ship the same day if ordered on a business day before 1pm (AEST). Check Australia post delivery times via the link below. Select Express Post on checkout for fastest delivery.
Each instrument has 8 metal cords of different lengths, welded with silver into a metal ring. Upon assembly, the cords are again carefully tuned to refine the interaction of tones and overtones into a continuous flow of harmonies. The proportions of the resonance-tube coincides with the 'Golden Ratio' principles of Da Vinci, thus assuring optimal sound and resonance.
Thin crushed and pressed layers of long fiber celluloid board create the perfect acoustic qualities for the warm timbre and crystalline sounds Zaphir Chimes are known for. Most of the materials used are natural, recyclable and of EEG origin / standards. The protective layers of varnish, and paint of the resonance-tube are ecological. The wooden parts are wax coated.
Move the chime gently holding it by its cord: the crystalline relaxing sound may leave you in quiet wonder. Suspended, it will play with the wind and carry you away in an unexpected melody.
Price is for one chime.
Tunings are created with seasons and elements in mind to correlate with Feng Shui practices – Crystalide: Spring; Sunray: Summer; Twilight: Autumn; Blue Moon: Winter; Sufi: Intermediary.
Crystalide ♪♫ G A B D A G B D
Sunray ♪♫ G# B C# E G# E A C#
Twilight ♪♫ E G B C E G B C
Blue Moon ♪♫ D F A B C E A# C 
Sufi ♪♫ F A D F A G A D
Sound Sample: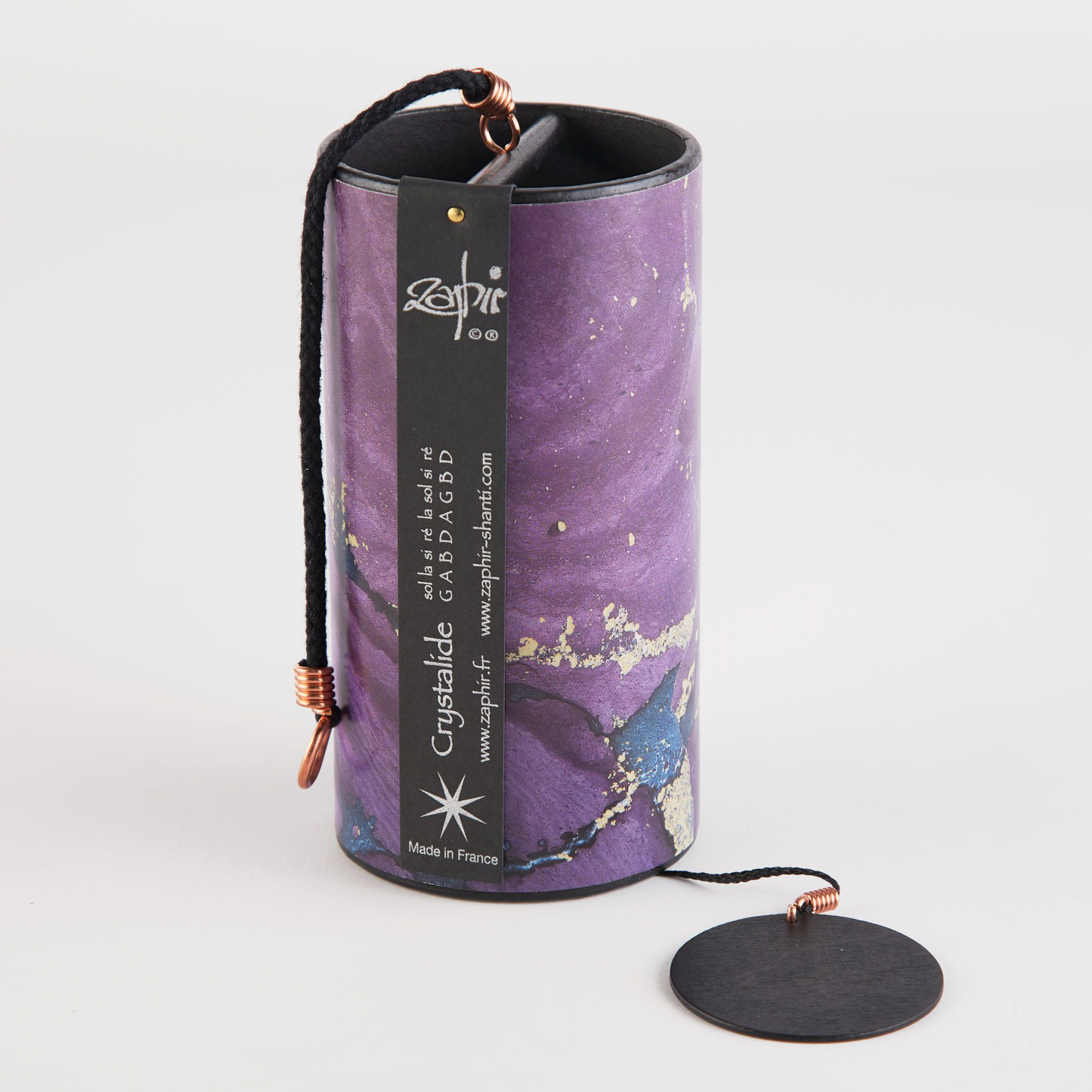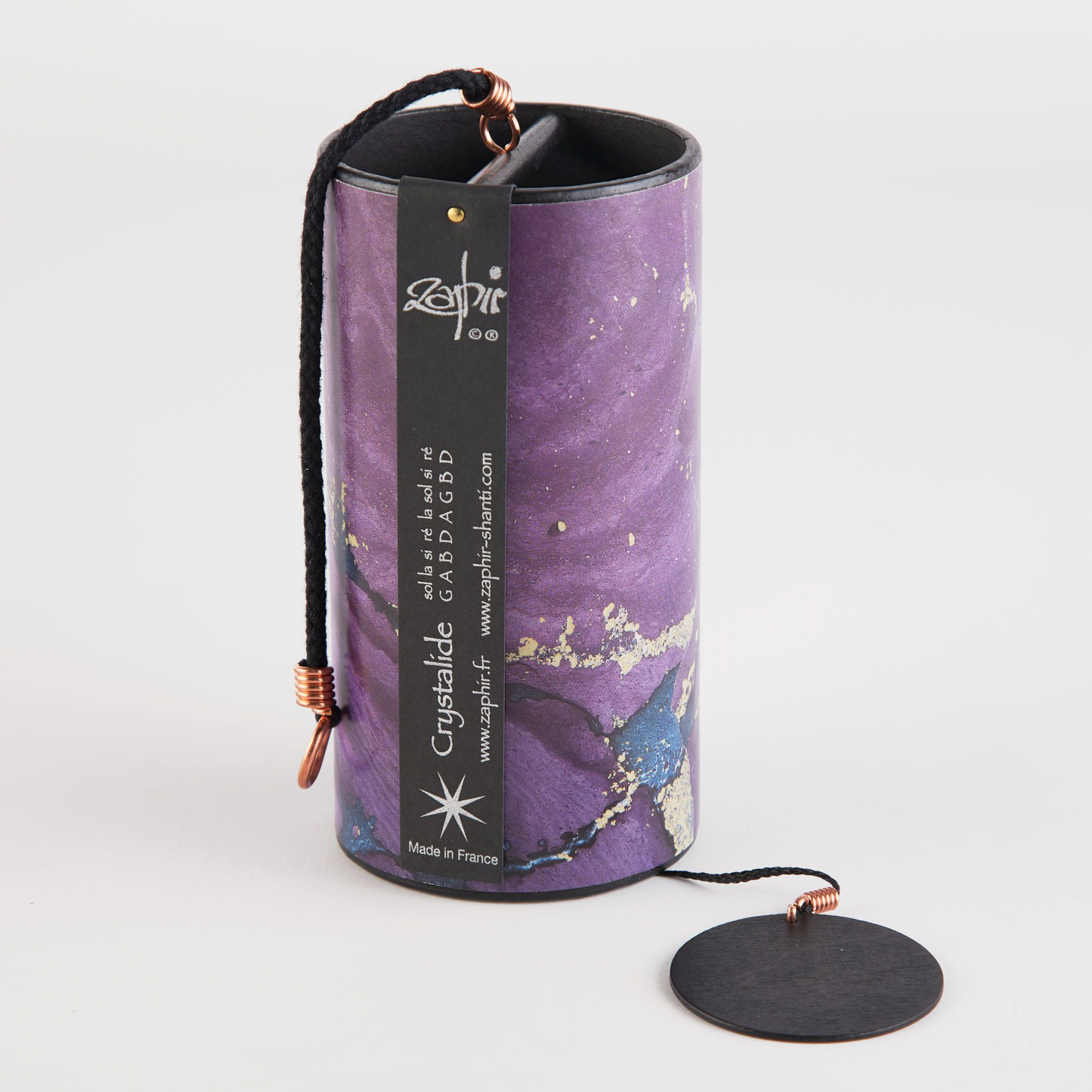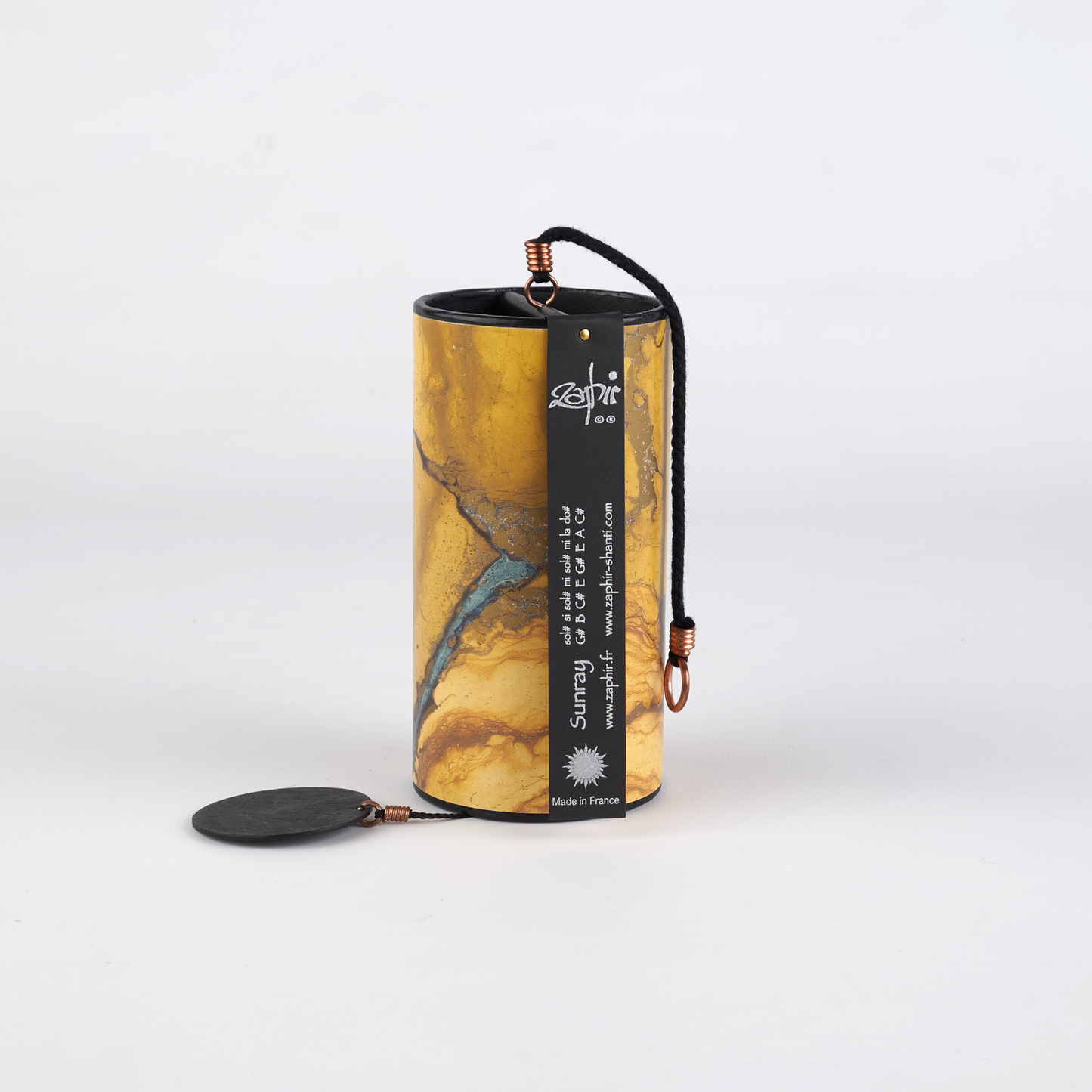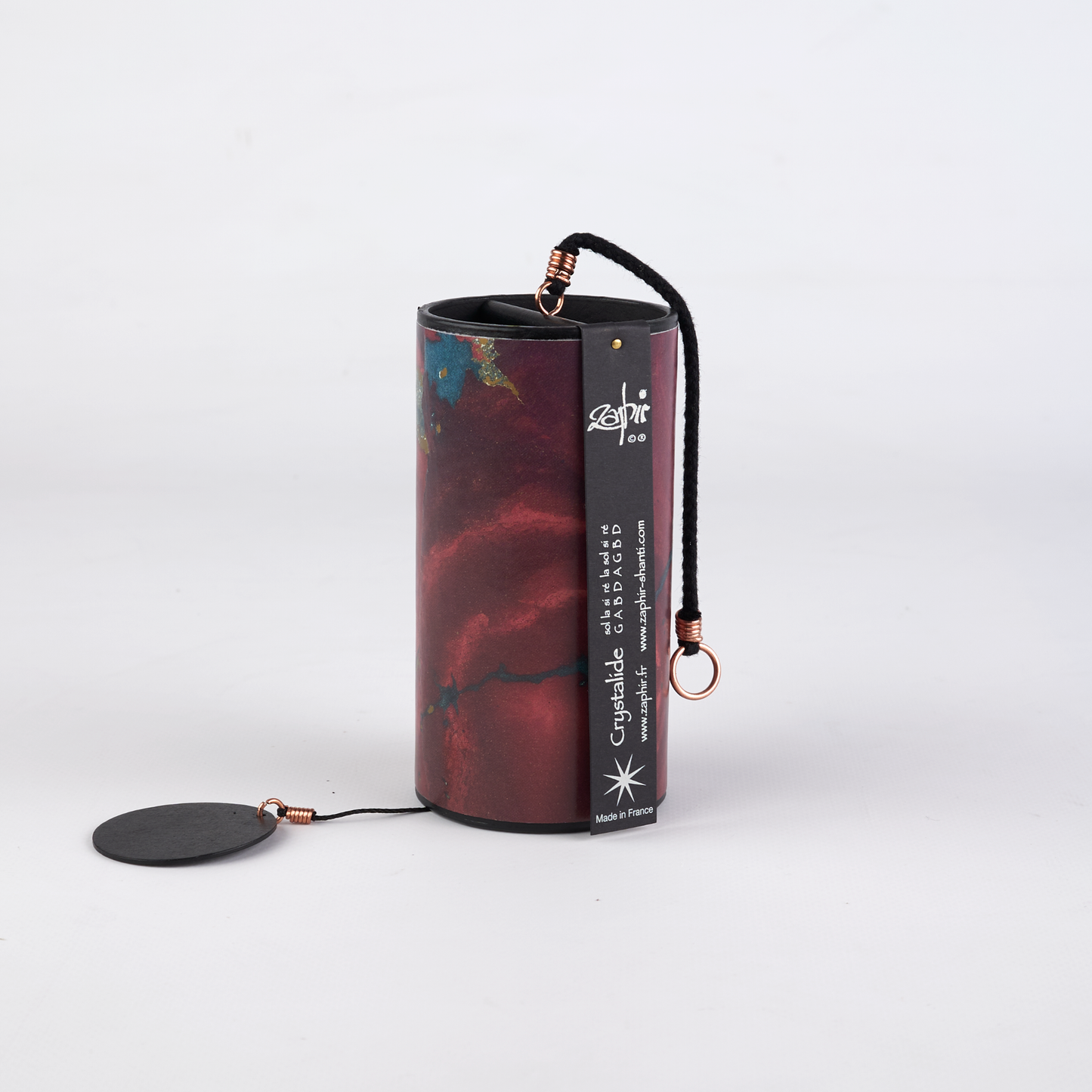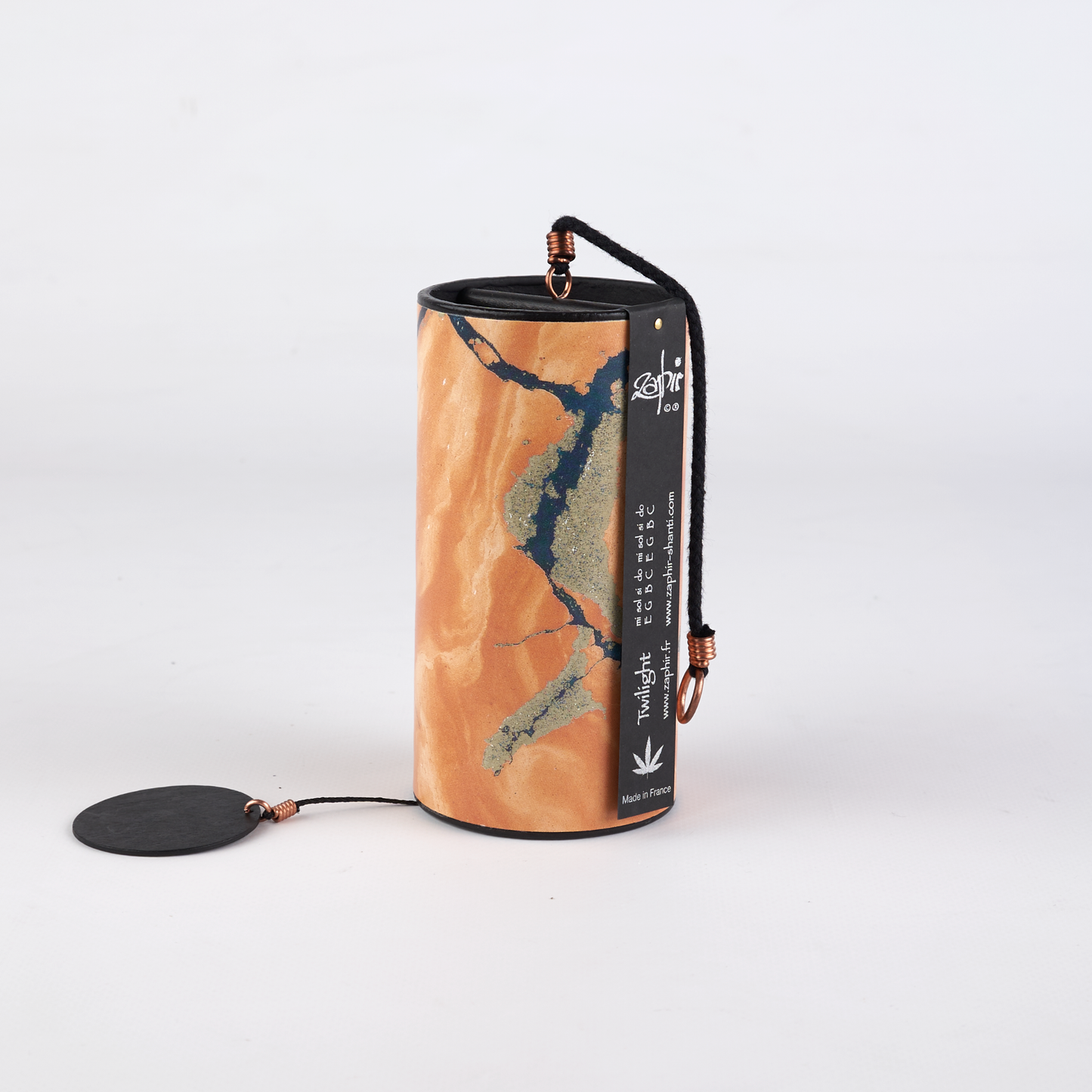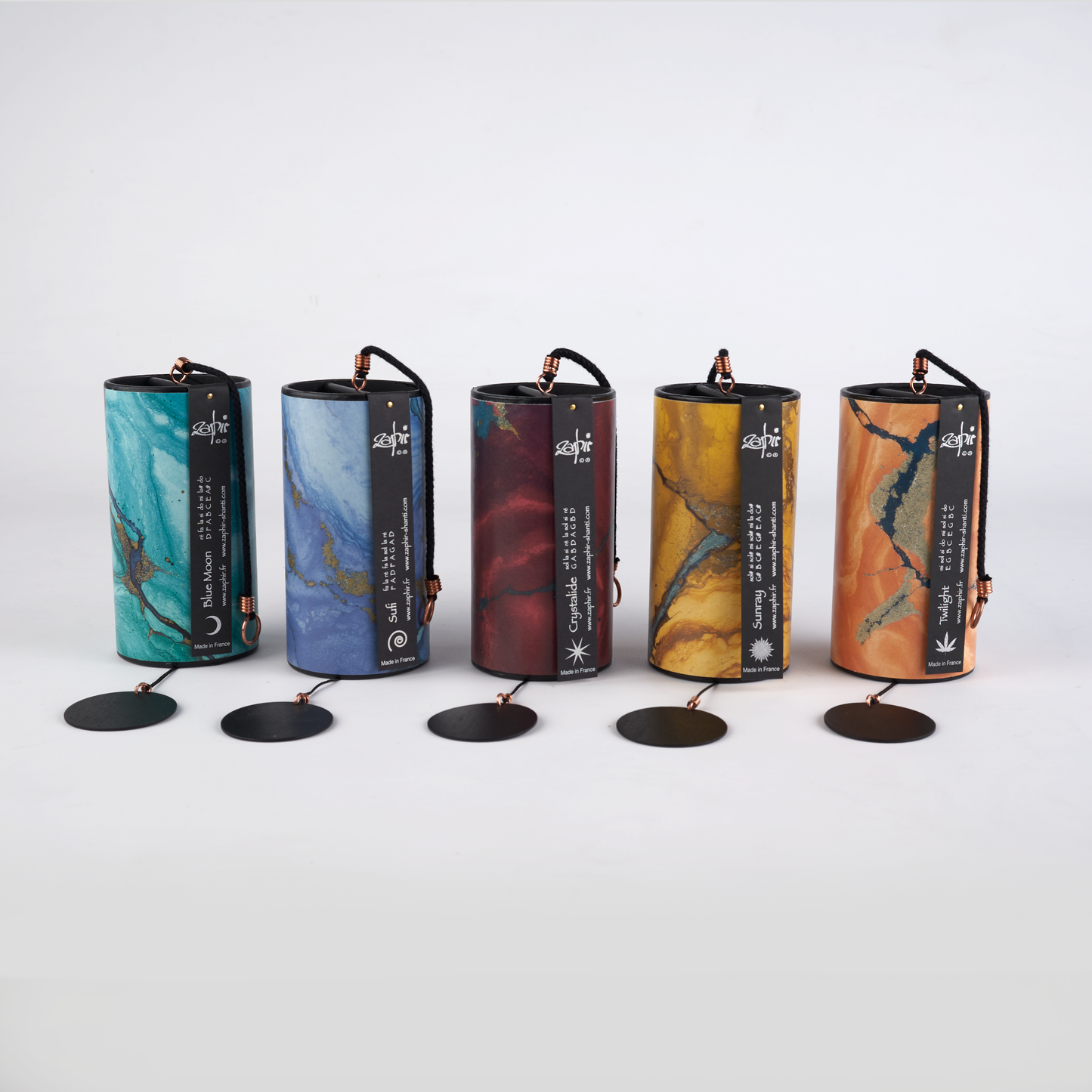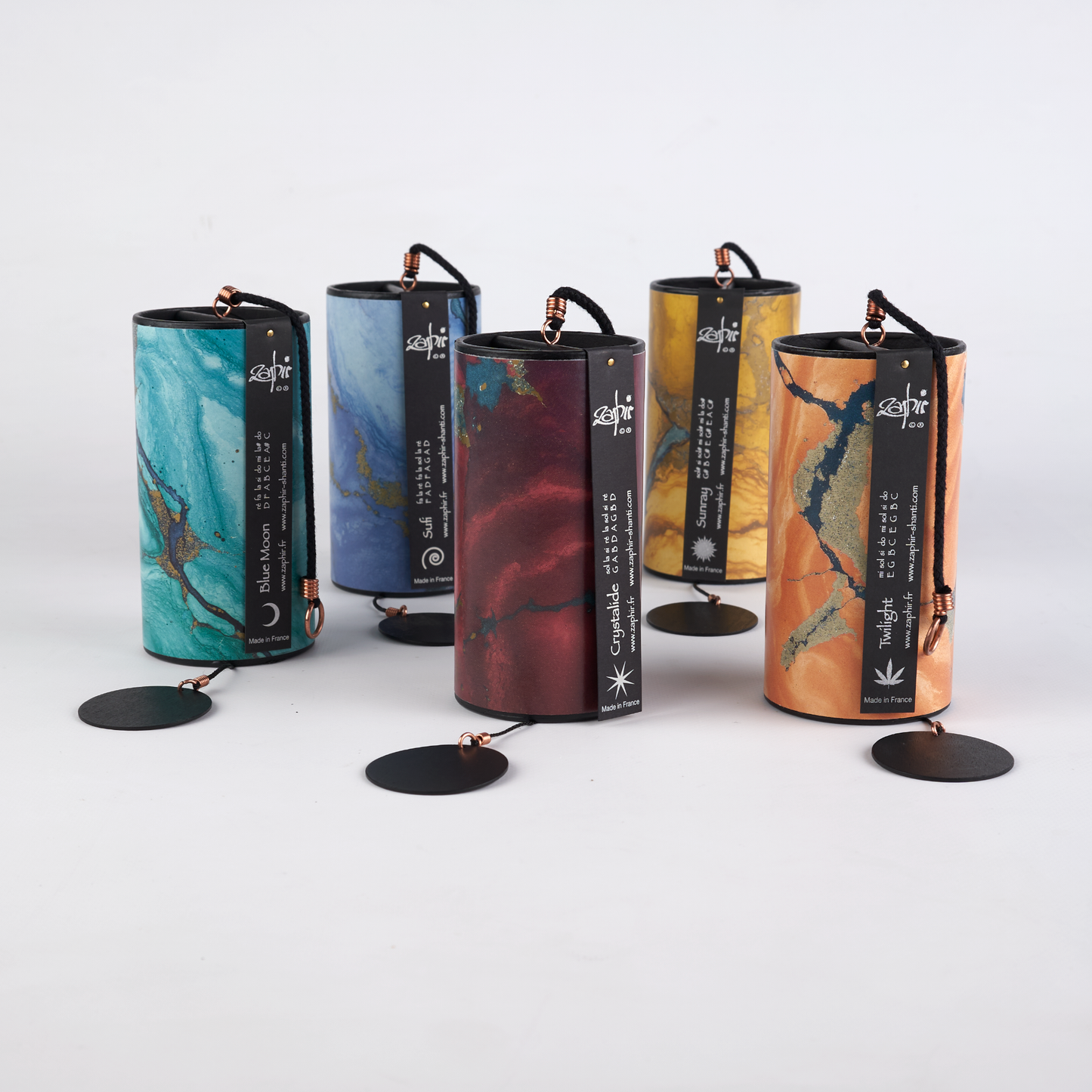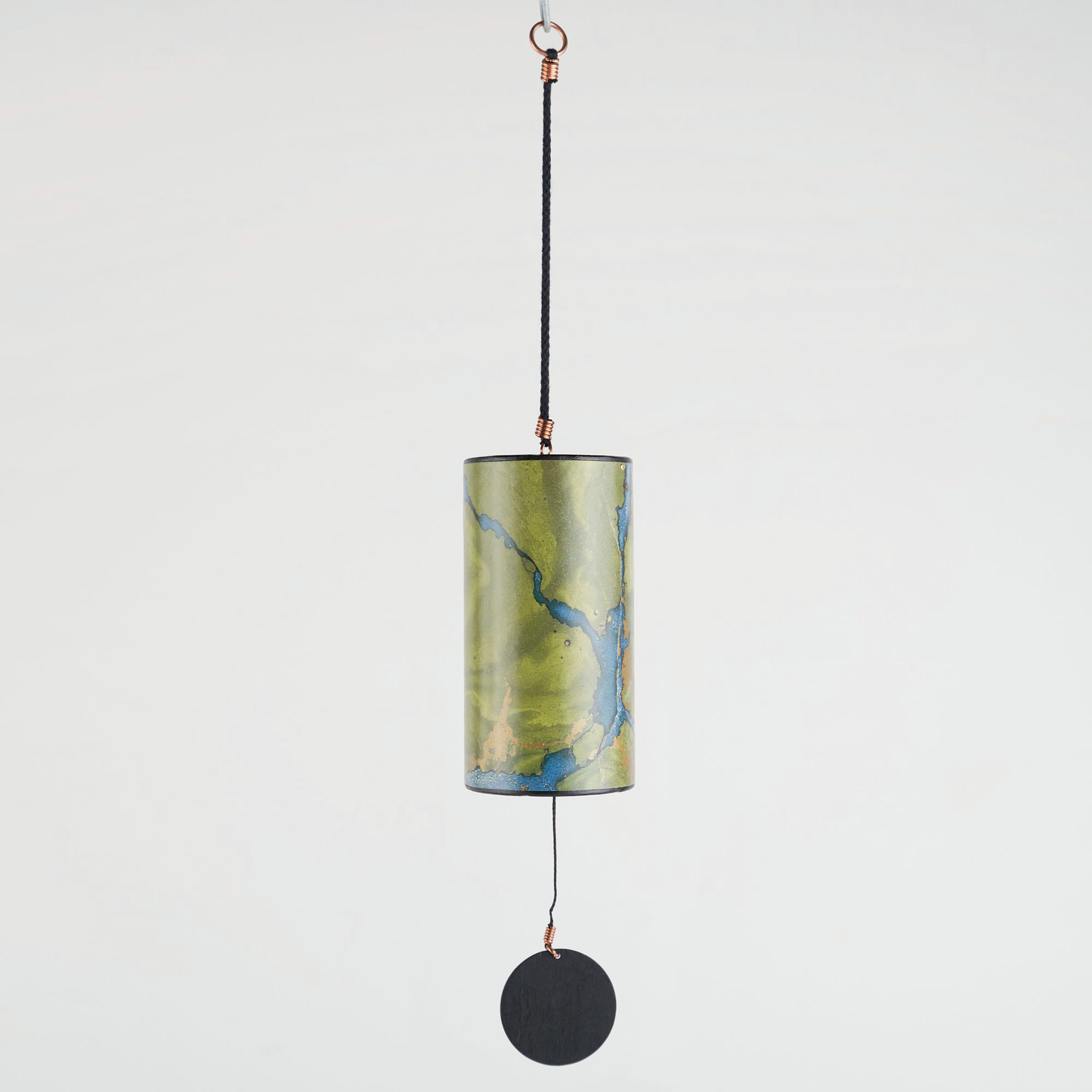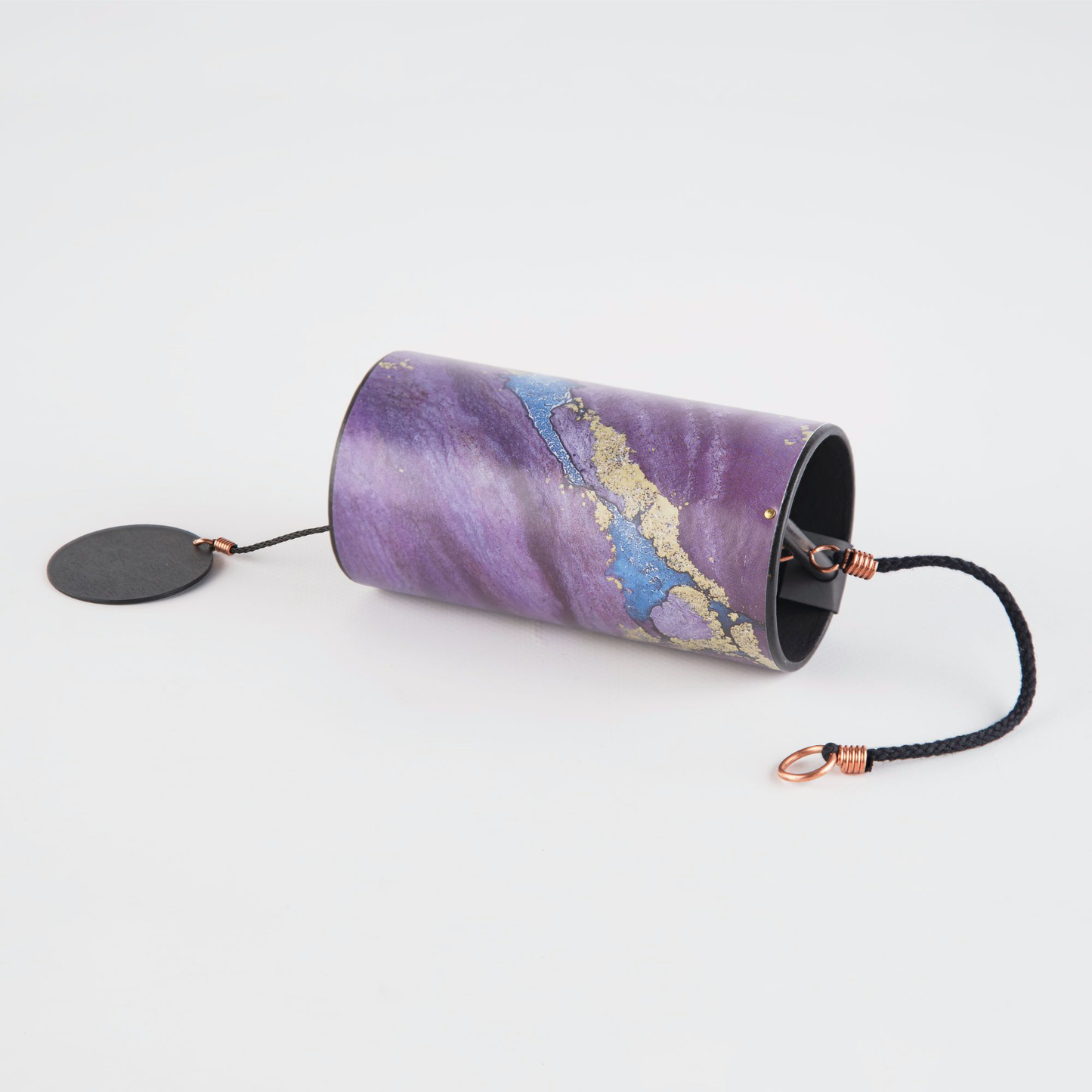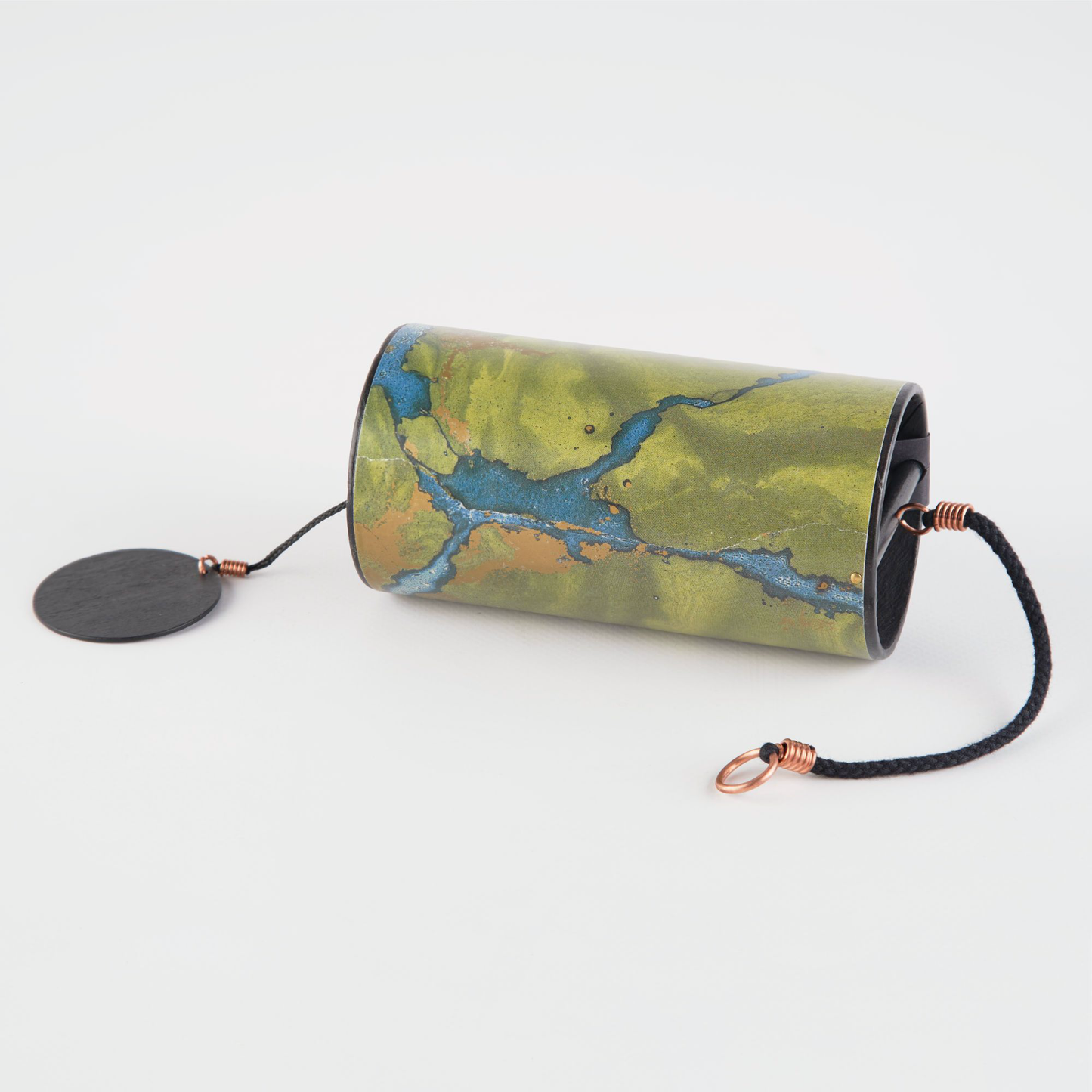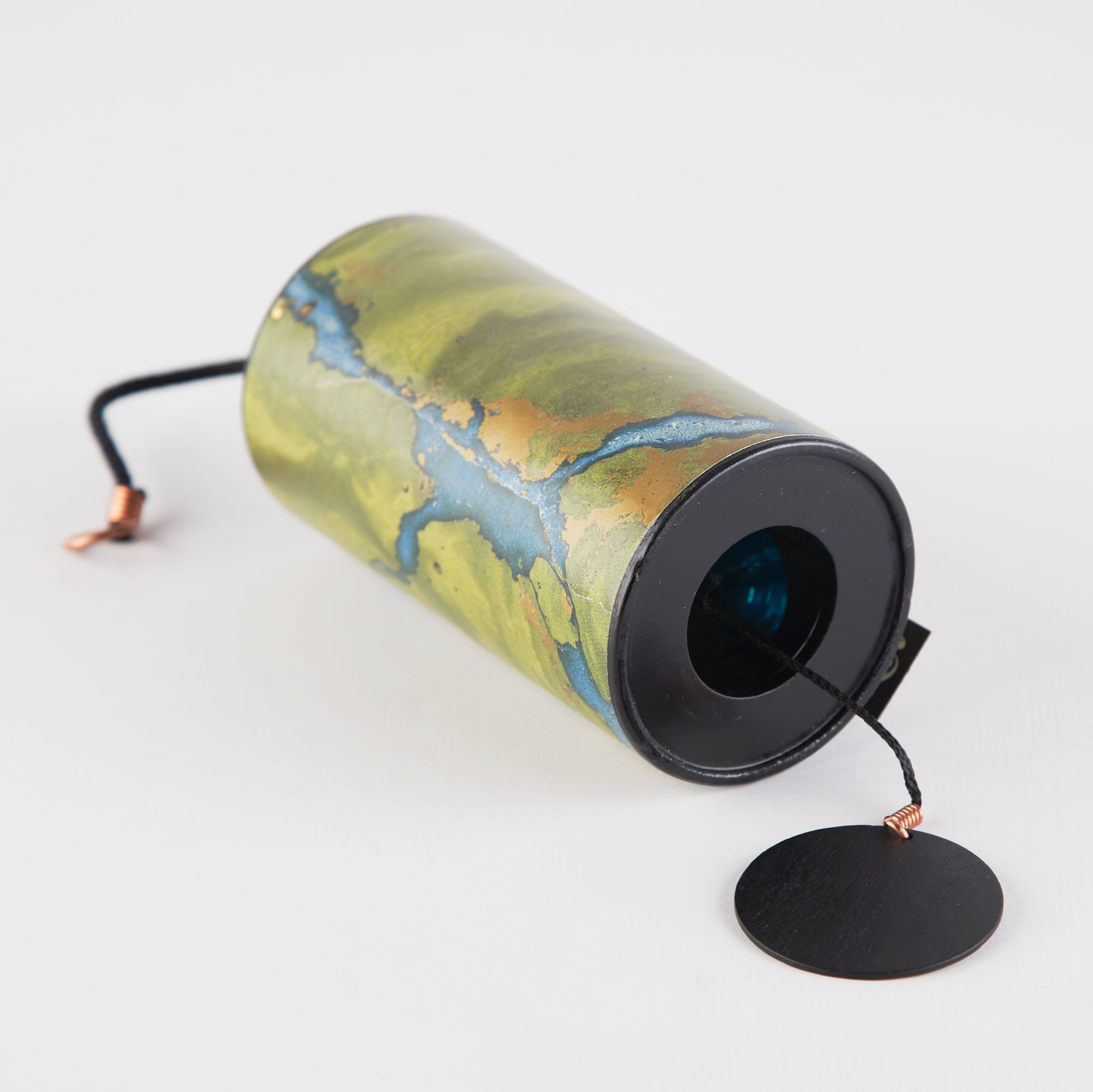 Zaphir wind chime Sunray
Love this wind chime. Has a beautiful sound. Very lovely colour and great size. Highly recommend this product. Fast delivery and item well packed. Thank you
Charming chime
Excellent product and prompt delivery.
soothing melodic tones
love the chimes, they sound so melodic and soothing
Zaphir wind chime
This is one of the most enchanting instruments I have ever heard - a little piece of magic