Fusion Contact LED / Glow Staff
SKU:2615
Regular price
$136.00 USD
Regular price
Sale price
$136.00 USD
Unit price
per
Sale
Sold out
Happiness Guarantee

We are here to create more happiness in the world. So if your shopping experience or the products ordered are not doing it for you, please get in touch or check out our returns policy here.
Speedy Delivery

Most orders ship the same day if ordered on a business day before 1pm (AEST). Check Australia post delivery times via the link below. Select Express Post on checkout for fastest delivery.
The most versatile, customisable, compactable Glow Staff on the market. 
Ultimate travel LED Staff;
Three piece collapsible;
Bright, vibrant LEDs;
Awesome preset colour modes;
Program your own colour modes, endless possibilities;
AAA rechargeable batteries.
OPTIONAL: Silicone Flowers
An optional extra is to add some silicone flowers to your staff, these help to slow down the flow of your staff by adding a little bit more weight on the ends. 
Includes
1 x Fusion Contact Handle
2 x Fusion Contact Polycarbonate Ends
2 x C5 Concentrate Led Light Units
2 x Silicone end caps
2 x Rechargeable AAA Nimh batteries (included with orders in Australia)
Fusion Modular System

Compact for Travel

Like all Fusion Staffs, they setup in seconds by simply twisting the handle. The key to the system is the highly engineered patented locking mechanism that's simple to use and provides superior strength with no wobble or rattle – That's super important for a balanced flow.

The kit is super compact – packing down to about one-third its size when disassembled. With the solidly machined connector, it has no moving parts and collapses down instantly.

Interchangable

The Fusion system is totally modular and has been designed to fit any 22mm tubing, which means you can swap the ends to glow, fire, contact, or dragon ends.
C5 Light Unit

The custom designed Fusion Glow C5 Light Units allow you to use hundreds of colour modes, you can personally select the colours and models you like most and save them alongside a selection of our favourites! These light units are also interchangeable with the poi, contact staff, single staff, double staff and devilsticks. The AAA batteries that come with the C5 unit are also rechargeable. As an optional extra we sell battery rechargers separately so you can recharge the batteries of your staff on the go, in the car, office or at home. Available here.

Read up on our C5 Light Unit Guide to learn how to use the light unit to its full potential.

Note: The light unit comes with a 12 month warranty, covering any manufacturing issues with the light unit. It does not cover water damage, battery acid leaks (from leaving batteries in for extended periods of time) or any other physical damage.
Specifications

Weight Sml =

642g

Weight Med =

696g

Weight Lge =

718g

Length Sml = 1400mm
Length Med = 1600mm
Length Lge = 1700mm

Length Selection Guide

To help choose your contact staff length, a trick is to take your height in centimeters and minus 15. Select the staff length closest to this measurement. This is a good length for a balanced staff that isn't too long.

Keep in mind length is always personal preference.
Materials

Made by Spinners for Spinners

We're spinners too and know what a great staff feels like. We've been making staffs for over 20 years and have been continually improving our design to bring you the highest quality twirling equipment on the market.

Silicone

Gripped with Silicone for a long-lasting grippy feel.

Silicone is an environmentally sound, clean product. It's washable and very durable. It's the longest lasting grip and provides excellent grip when dry. It is also fully washable so you can keep your props looking and feeling good as new.

Polycarbonate Tubing

Polycarb is perfect for our glow props as it is naturally transparent allowing light to shine through the entire toy. It is lightweight and strong with a high impact resistance. It has a transparent white look to it that glows bright at night.

Strong Aluminium Tubing

Made from 20mm x 1.6mm extruded 7075 Aluminium tube. It's the perfect balance between weight and strength, which means you'll enjoy this staff for years.

Lightweight Carbon Fibre

Carbon Fibre is super strong and super light which is what makes it such a good material for props like contact staffs where you want all the weight to be at the ends rather than through the body.

Perfectly Weighted

Our design ensures that there's more weight on the ends, which is where you want it, to help the staff build momentum as you spin. Each staff has dowel inserted in the ends to add the perfect amount of weight. A balanced weight; Not too heavy, not too light.
Troubleshooting

Fusion Troubleshooting

Experiencing issues with your Fusion Staff?
Watch videos on some troubleshoot tips for your Fusion Products Fusion Troubleshooting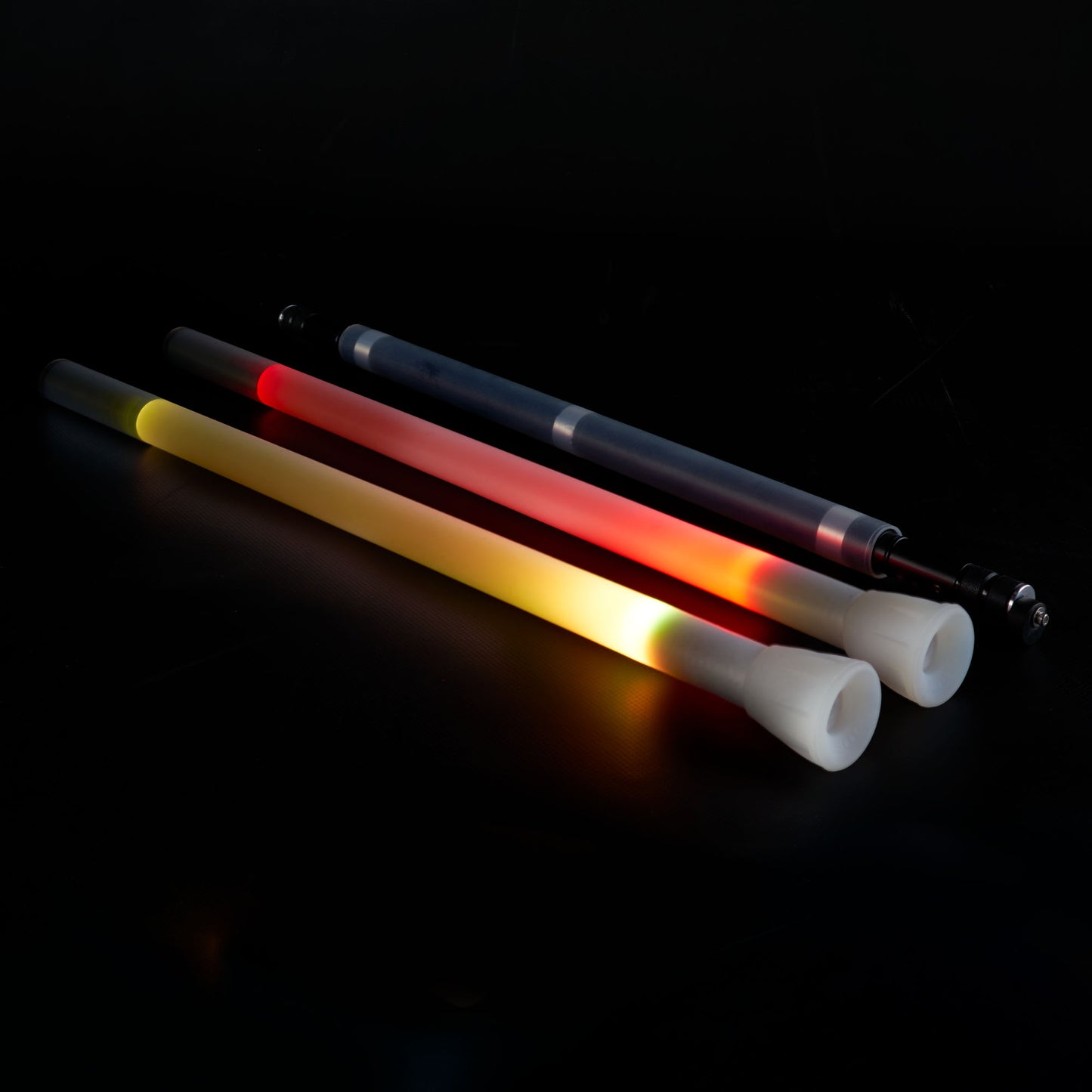 Perfect collapsible LED contact staff
This is the best collapsible LED staff I've ever played with. I like them with the flowers for perfect rolling inertia, weight and balance, and the Fusion connectors have no clickiness at all. The customisation of modes on the light units has a lot of potential.
Thanks heaps for the great review Duncan :)
So happy you love the staff
Happy flowing!
Very flowy
Super solid staff and led options. Great service and fast shipping too!
90% satisfied customer
I ordered two staffs, one the Fusion Contact LED staff and the other was the regular non-contact version. I am extremely happy with them as they are both a lot more durable then I was expecting. They are also relatively water resistant as the compression fittings have o-rings in addition to the compression mechanism acting as o-rings in their own right. The regular staff is a bit more flimsy when compared to the contact staff; but I think this is because it does not have the rubber liner on the outside. This liner makes the staff extremely durable and cushions any shock from dropping the staff. But it is likely to interfere with more traditional (non-contact) styles for a lot of people. Although, I prefer heavy and grippy staffs for such styles anyway, and the staff isn't built for that kind of use.
I had two issues; one was that the staffs were supposed to come with batteries included, but they did not.
The second was that the delivery was supposed to go to a parcel locker, as my place is not safe to deliver too. But the courier that threeworlds used was unable to deliver to the locker, and I had to coordinate with them for an alternative delivery.
As I had to run off to an event with the staffs and have been out of reception for about 5 days, I have yet to chase up threeworlds about the batteries. I'll work this issue out sometime this week.
Issues aside. I have been buying threeworlds products for years, and the quality of the products and the customer service has always been excellent. Don't let my logistical issues with this specific order stop you from buying from these guys. Their staffs and carry bags are some of the best I own and I do have a lot of toys from smaller makers, and 'home of poi'.
False Advertising
The price of this staff does not correlate with the quality. It advertises as a "heavier" which could be used for contact, yet I have not had that experience at all. It is heavier in the middle where the batteries are - then the sides are light. It just falls when you try to spin it because it is so out of balance. I just do not see the point in spending so much. If you are looking for a contact staff or spinning staff, this is not the one for you. The price is just not worth it. Maybe this is what happens when a staff attempts to do it all. But they should not be advertising this as a heavy duty contact staff - it is false advertising to me.
Prior to purchasing I contacted customer service and they claimed it was "more robust" and "very strong", yet this staff is far from that and has not been my experience at all. It is very unfortunate, because I was hoping to use this to improve my skills with contact, which will not be in the case. It is also not the best for general spinning either . I contacted customer service, and they were not really any help. I need to pay for the postage to return this, and return is also not guaranteed if they find it has been "used".
Hi Janelle, sorry this staff wasn't what you were after. You can definitely send it back for a full refund, and it's only if it's been used a lot and looks worn that it would be an issue with returning it.
Absolutely stoked
First time buying flow toys and I couldn't be happier, I can't stop spinning. It's great supporting an Australian business that provides a high quality product. Will definitely recommend, will be back to buy more 🙏